ZENRA Exclusive Interview: Ruri Saijo
Published : October 21st, 2021
Written by vienna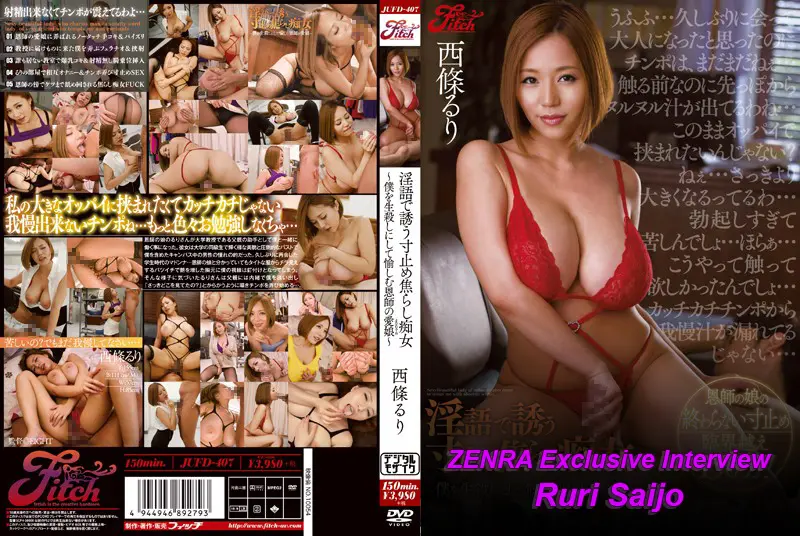 Check out our second interview with Ruri Saijo here!

With more than 10 years of activity in the JAV world, Ruri Saijo could be defined as a veteran of the industry. Boasting fans all over the world, the 31-years-old actress told us about herself, her career and what she has been up to recently. You can find Ruri Saijo's Twitter here and her Instagram here. She also has a FanCentro. Have a look at them, and enjoy the interview!
[ZENRA] How did you get involved in the industry? Did you advance through 'water trade' jobs?
[Ruri Saijo] I was introduced by someone already in the industry! I've never had any experience in the water trade nor adult industry before that.

[Z] Out of all the movies you've done, which was the most enjoyable? The least? Why?
[R] The fact is I've always been treated well on set regardless of the studio and production staff. I've had bad experiences. The worst? I have to keep that a secret.

[Z] How has the environment on set changed since COVID-19 began?
[R] Well, I haven't been on set since then, but I can tell you our options for going out for drinks have drastically reduced.


[Z] Would you ever want to appear alongside a foreign actor?
[R] Sure, I have a big interest so long as he's handsome!

[Z] Do you think the industry has changed at all since you debuted, not counting COVID?
[R] I'm not sure if the industry has seen big changes, but I think there are more cute women now than before.

[Z] Speaking of agencies, what do you consider to be the pros and cons of them?
[R] I've always wanted to have titles made as a team and this is something that being part of an agency has helped with. There's only so much you can do on your own.

[Z] Do you watch JAV for enjoyment? What about Western porn? If yes for either, what do you watch?
[R] Honestly, I don't watch much of either…
Check out the trailer for JUFD-407 here!

[Z] Are you able to separate the sex and pleasure you may feel on set with the same sensations you feel in private?
[R] The sex that I have in private feels a lot better than how I feel when I'm performing.

[Z] Is a return to filming something you are considering?
[R] What should I do? I just started promoting myself on FanCentro! I'm hoping to amass a lot of followers there. We'll see what happens.

[Z] Your retirement came around the time VR was becoming popular. Did you enjoy doing VR? Did you ever contemplate staying around longer to do more of it?
[R] Shooting VR is very different than 2D. Honestly, it was very challenging.

[Z] As an actress who has done significant amounts of both freelance and exclusive work, which did you prefer?
[R] I loved doing both!

[Z] Did you ever feel like you got typecast because of your large breasts? Do you wish studios would give you more roles less focused on them?
[R] It's hard to deny my chest is my calling card so I was always happy when offers came in. I'm planning on starting to do some custom fan requests with them at FanCentro.

[Z] Near the end of your career you decided to do your first gokkun video. What inspired you to do something new at that time?
[R] I wanted to challenge myself, but I sure set the hurdle high on that one!

[Z] You never managed to do lesbian during your career. How come?
[R] I always wanted to do what I enjoyed on set and lesbian shoots just didn't really factor into it.

[Z] Back in 2013 you had the opportunity to work with two very well-known actresses internationally, Anri Okita and Hitomi (MIRD-119). What was it like working with them?
[R] It was an incredibly exciting shoot! I'd love to go abroad with them.

ZENRA also provides an exclusive release starring Ruri Saijo, with full English subtitles! You can check out the trailer below.



[Z] What advice would you give to new girls (or guys) thinking about getting into the industry?
[R] There are many types of challenges out there you may face, but if you're interested in this one you should give it a shot.

[Z] Do you still keep in touch with actresses still active and if so, what have they been saying about the effect of the pandemic on their jobs?
[R] I'm good friends with Ai Hanada. We used to travel together, but since COVID, our lives have been kind of hikikomori-like.

Check out the trailer of JUFD-310 here!


[Z] Have you ever been spotted by fans? If so, any unique stories?
[R] I've never been spotted so far. However, it's possible fans have noticed me and just didn't say anything.


[Z] If you could travel anywhere in the world, where would you want to go, who would you want to go with, and what would you do?
[R] Rather than me wanting to pick places, I'd love to be invited to take part in various events.

[Z] If you did not decide on doing JAV, what would you be doing now?
[R] Probably just lots of loafing around.


[Z] How did you like being at AVN?
[R] I so, so want to go back again! I enjoyed it that much.

[Z] What music do you listen to?
[R] I like anything so long as it's trendy.

[Z] Any message for your foreign fans?
[R] I'd love it if you all followed me on Twitter. I plan on remaining active in the spotlight so I sure hope I have your support. I hope to meet you all!
Interviews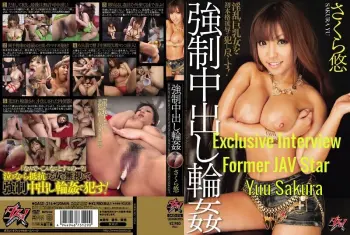 Exclusive Interview with Busty J-Cup Actress Yuu Sakura.
Interviews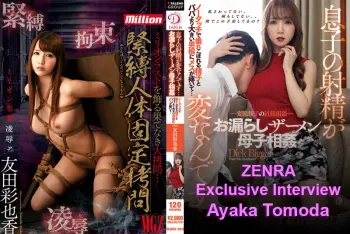 We had the privilege and pleasure of an exclusive interview with JAV actress Ayaka Tomoda! Learn about her in this Q&A provided exclusively on ZENRA!
Interviews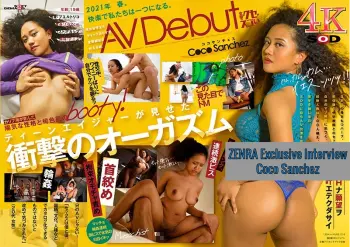 Learn more about Coco Sanchez in our exclusive interview with her- including juicy details and more!