The Curious Case of Aida Asuka - How the JAV industry took the life of a rising star!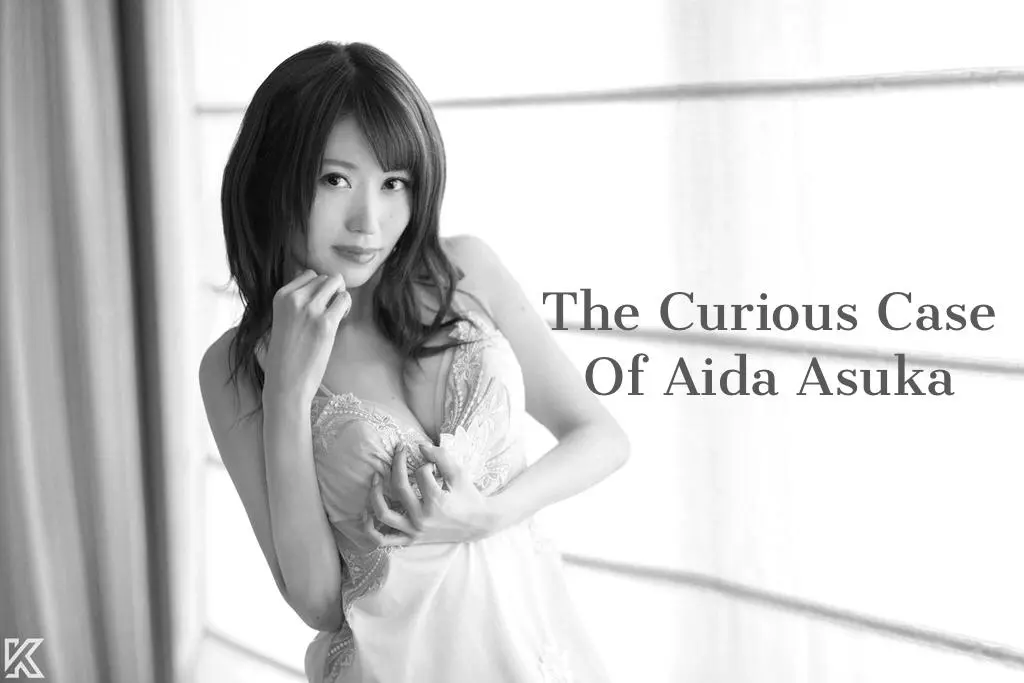 On 23rd February, 2019 Aida Asuka posted this tweet on her official Twitter handle.
寂しくて一人部屋にいると良からぬ事を考えちゃってフリーズしてる疲れたよ、パトラッシュ(´・ω・`)こんな時に駆けつけてくれて抱きしめてくれて大丈夫だよって本当の安息ほしい(´・ω・`)

— あいだ飛鳥 (@aida_asuka) February 23, 2019
She tweeted: "Alone in the vacant room, it is only possible to think of the worst things, not being able to move. I'm too tired. Somebody pull me out of this time, hug me and say everything will be fine. I just wish I could get a real break "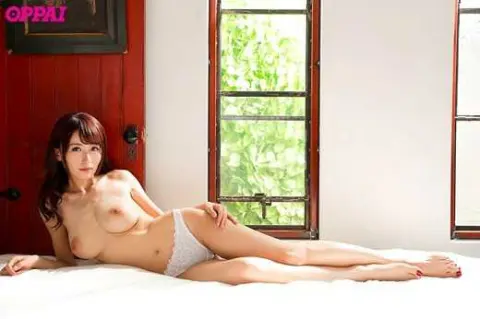 Aida Asuka used to work as an escort for a luxury soapland in Ogota, a hot spring resort in Otsu, Shiga Prefecture, famed for its soaplands. Aida was the top lady on the roster for five years in a row before transitioning into mainstream JAV with the famed Soft On Demand studio under the name Yuika Takashima. Her first JAV release was (CUBE-009) 240 minutes long and was released to the eager public in 2015 along with two other debutantes. While the other two girls vanished, Yuika stuck to the profession and reappeared again in 2018 with Oppai studio's PPPD-710, this time under the alias Aida Asuka
DVD cover of CUBE-009, Aida Asuka's debut film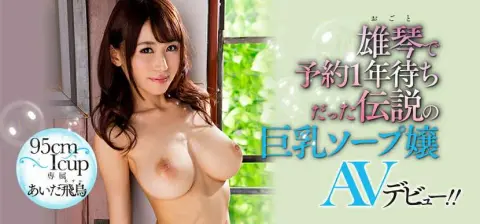 Aida Asuka on the cover of PPPD-710, her debut JAV under the new alias
Aida Asuka formerly known as Yuika Takashima, was often hailed by the JAV critics for her supremely slender stature with magnificent bust and her quality paizuri skills. Her legendary pair of breasts and skills had acquired a one-year waiting list of male clients in her former soapland.
By late February, some grim rumors about Aida Asuka having committed suicide allegedly having jumped out of a high rise building in Gatonda started sufacing on the Japanese AV forums. The rumor gained grip as Aida's friend Ichika Kotone (aka Hosho Riri) went on to criticize the late actor's agency Zeal Group on Twitter about Aida's videos still being on sale and her Twitter account still online and what not. She was also angry about the JAV actress only being paid 200K yen for her recent acting services although the DVD sales were fairly huge but she deleted those tweets later (probably pressured by her agency/manager). You can check the archives of the tweets below.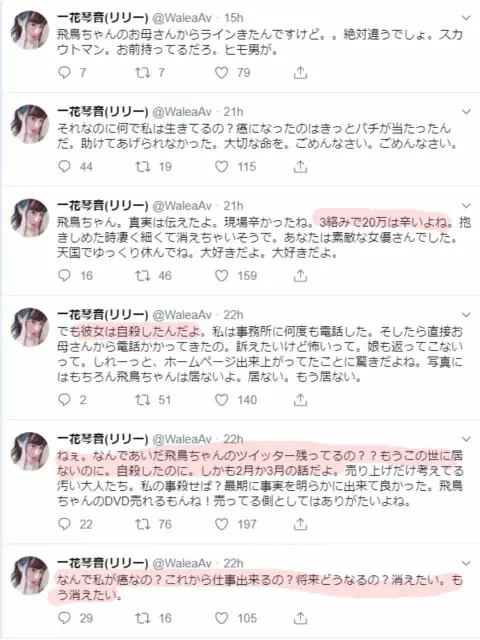 The story is actually more complex than what it seemed to be. This was not the first time she tried to commit suicide. Prior to this she had attempted to end her life once but was saved by her friend Ichika Kotone and going by her tweets they both livestreamed on TwitCasting later that day. The JAV idol also tweeted how the late actor's mother reached her over the phone with the intention of suing the firm but was too scared to do so. She expressed remorse over the untimely death of her daughter.
The JAV star went on to rant about her own personal grudges and her battle with cervical cancer by tweeting cryptic messages like "Do not call the police" & "Sayonara". She later pulled off those tweets, maybe under pressure from her firm for which the reasons are still vague. Ichika resurfaced a couple of days later & apologized to her fans on the platform.
By connecting the dots & doing our own bit of research we found out that Aida committed suicide in late February - March of 2019. The reasons to her death are still unknown but according to an article on JAV blog PlayNo1 a vague theory came into light. A user going by the alias Kato Eagle commented:
"Most of the AV actresses come from single-parent families, have no education, and many people have been bullied. Some of them have a bad personality, and some are mentally ill. In the pressure of the Japanese AV industry, it is inevitable that some people will go to a dead end"
The case didn't attract much attention because it made the JAV production community look bad. It was just swept under the rug and kept moving. Some sources say that the sales of her DVDs skyrocketed after her untimely demise and the profits were being churned out in large numbers. The talent agency she was associated with hasn't taken down any of her titles from R18/FANZA and are still making huge sales post her death. Her Twitter is still active to this day, she had full ownership of her account unlike other AV stars who allow their management to operate their handles. A VR movie, which was probably her last work was released after her death by Alice Japan.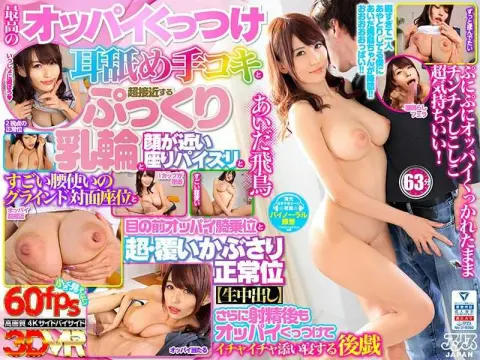 DVD cover of the movie under studio Alice Japan, that released after her death
Cases like these are very rare in the JAV industry. We, at ZENRA hope that no actors whether dead or alive get exploited in any way by agencies for their monetary benefits & suffer such ill fate in the near future.
Gossip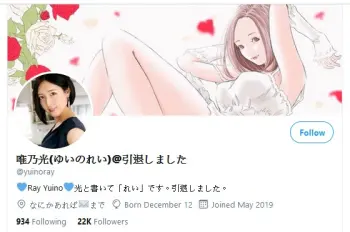 JAV Career Movements: retirements, revivals etc: Rei Yuino, Meguri, Miku Abeno, Mahoro Kamiki, Toka Rinne
Gossip

New SOD Star debutant Mao Watanabe is doxxed soon after her reveal. Did she choose flight or fight?
Gossip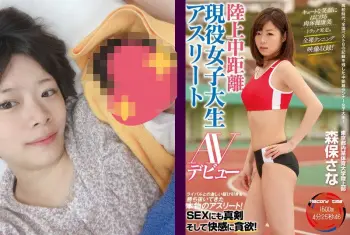 The Fastest JAV idol Sana Moriho is now a lactating MILF