Kurea Hasumi Spotlight
Published : September 17th, 2023
Written by Oppaira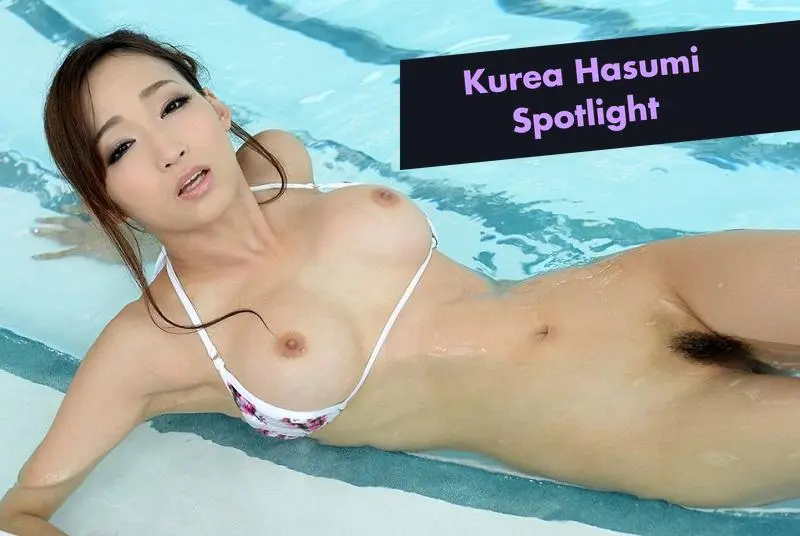 Kurea is an actress that needs no introduction. With an incredible 10 year career she's been a household name for such a long time. It has now been a year since her retirement and I felt like it was the perfect time to do a spotlight on her. So sit back and relax as I go through everything Kurea including my top 10 videos of hers.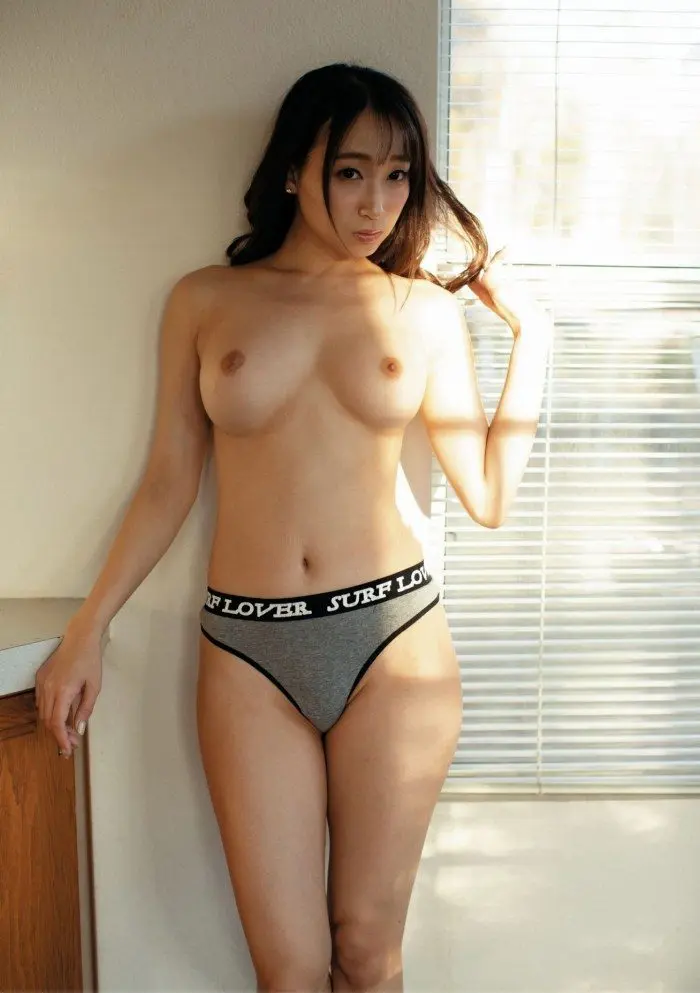 Birthday (Age at debut): 1991-12-03 (20)
Height: 158cm
Measurements: B88 - W57 - H94
Cup Size: F Cup
Career: 2012 - 2022
Debut: For hmp on 2012-03-02
Retirement: 2022-09-25
Kurea debuted under the name Ami Adachi and quickly went up in flames. However, later that year she would redebut as Kurea and take the industry by storm. Her spunky, upbeat, and dominant personally really shone through quite quickly. During her early years she spent a long time as an exclusive for Bi of all studios being this wild nympho. When she finally decided to leave and go elsewhere her career instantly became even more insane, being featured with all sorts of incredible costars like Anri Okita, Ayumi Shinoda, AIKA, Hibiki Otsuki, Yui Hatano, and many more. On top of all the wonderful costars she also starred in a ton of the hottest series out there, instantly becoming a fan favourite.

Kurea's career has kind of been all over the place. Sometimes she was at the top of the world, easily one of the best actresses in the industry, while other times she fell flat really hard being just a shell of her former self. Personally I will always remember the middle of her career just not being the same. For me Kurea was such a strong performer and really good at certain styles that it felt like she really needed the right opportunities to shine. Kurea is really the epitome of someone I never want to watch in a submissive film even if she's perfectly fine at it. I think given the longevity of her career and just how good she was at more dominant performances, you just always wanted to watch that kind of stuff. Especially with the general industry decline in the more grandiose videos, Kurea just didn't get those opportunities. Kurea did eventually bounce back and by late 2019 it felt like the good old Kurea was back in business.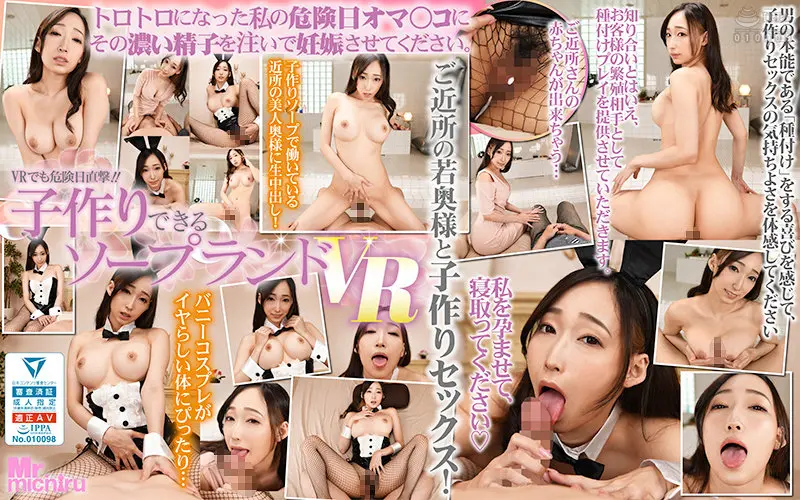 Kurea sadly decided to quit in late 2021 with her final VR film coming out a few days before Christmas. She'd take another nine months to officially announce her retirement, 10 years to the day exactly since she debuted under the name of Kurea Hasumi. Like most fans I was sad to see her go but the writing was on the wall at that point.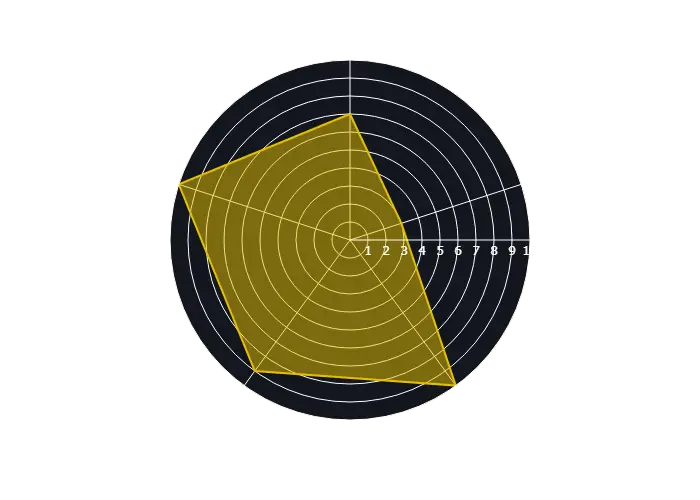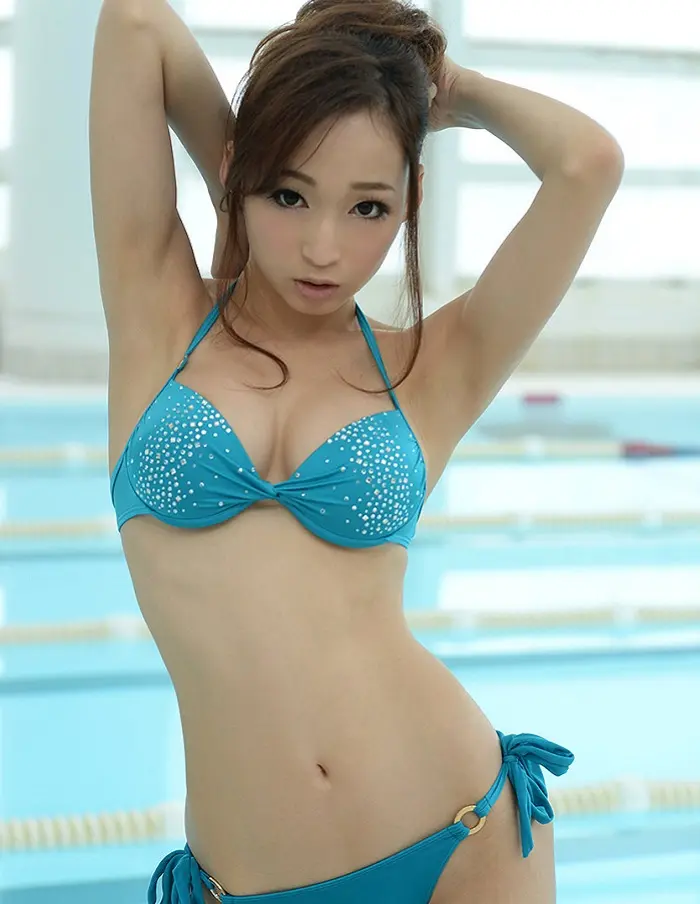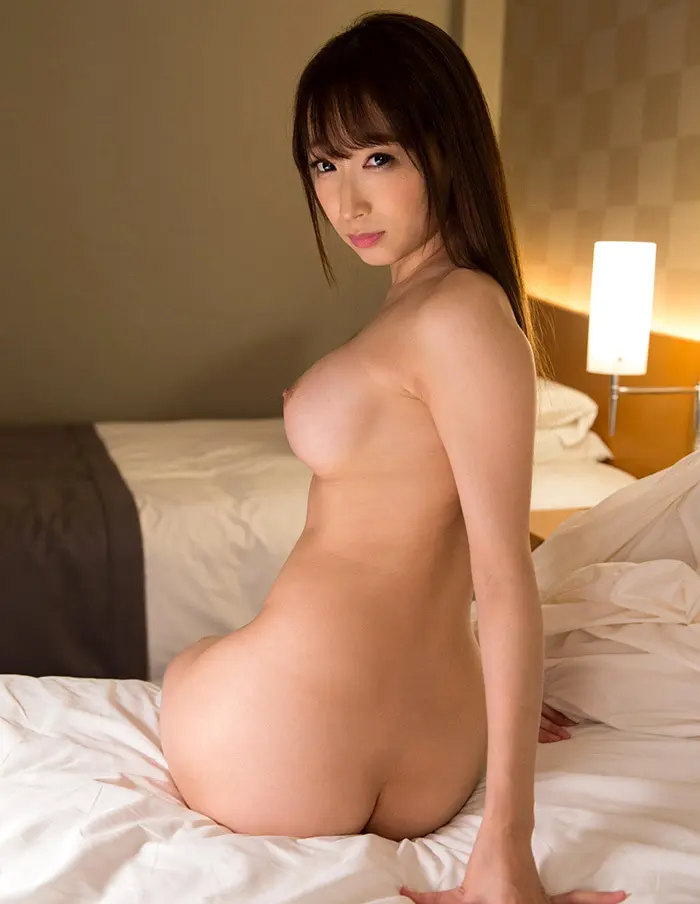 Kurea's face has always been rather mid for me. While I ultimately gave it a 7, that's only kind of average among JAV actresses. I think she was prettier earlier on in her career when she used more makeup, interestingly enough. I wouldn't say Kurea is unattractive but I've just never really found her to be a looker.
Kurea tits have never been something I've enjoyed. You all know me as someone who likes huge tits and while Kurea's aren't tiny they're only as big as they are because they are fake. There's a world of difference among fake tits but with Kurea's being this smaller bolt-on style they just don't do much for me. It's better than no tits but it's the one major downside she has as an actress. Honestly though, I've never really been bothered by them the way that some fake tits do. I think part of that goes with Kurea's tits not being so big that they're a focal point, so videos are focusing on other things instead. That's also true of how I enjoy Kurea videos, often looking at other qualities like her butt or her performing and letting those shine.
Kurea's ass is definitely the best quality she has and it's not close. She has one of the best asses JAV has ever been graced with. It's not big but it's toned unlike almost any other ass out there. It's just so firm and tight that you just don't see very often. On top of that it often twitches like it has a mind of its own, further adding to how unique it is.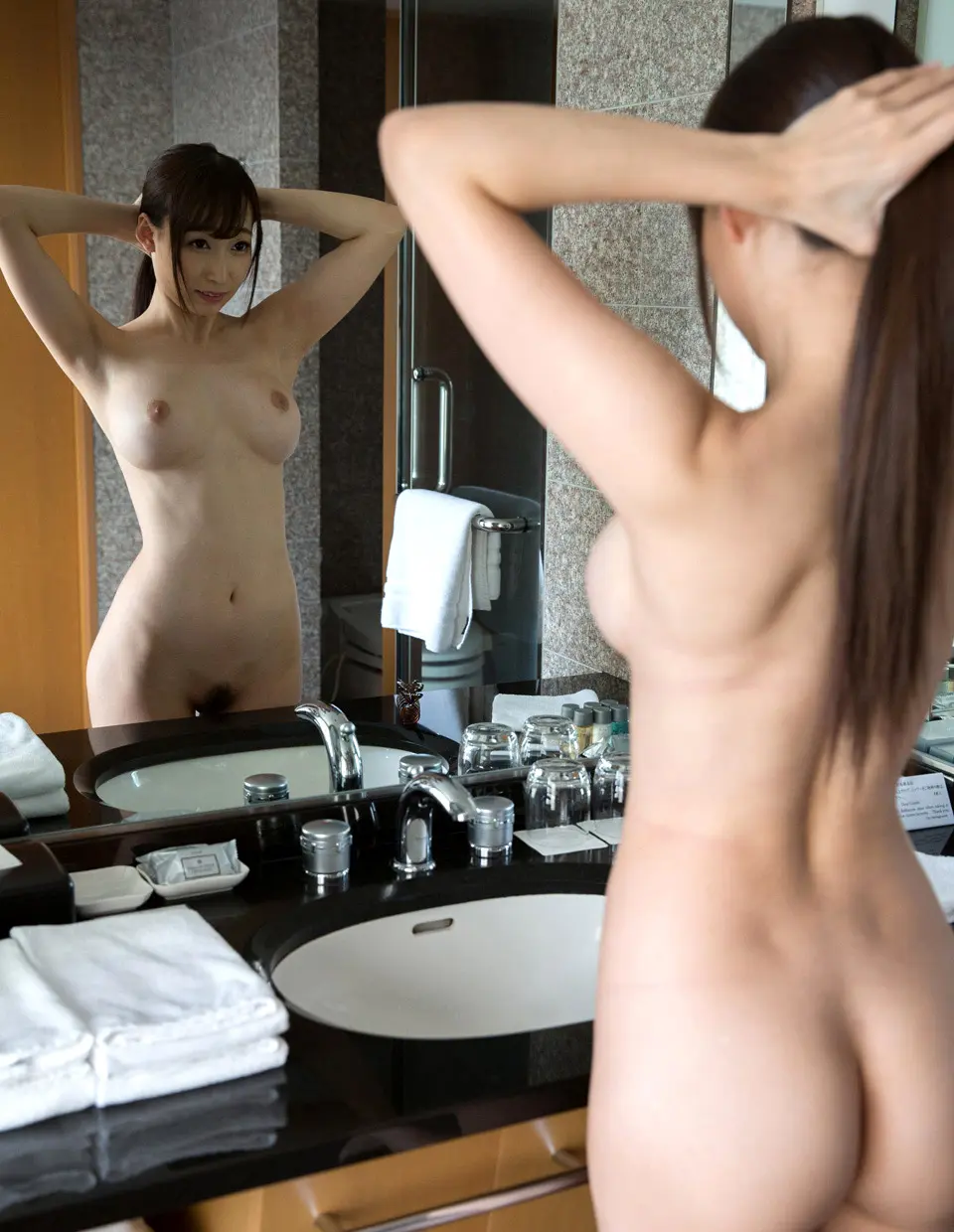 Kurea's body has also always been pretty nice. It's not quite as thicc as I would personally like but honestly it's still among the nicest bodies around. She has always had a slim figure that never came off as though she was super skinny. I suppose all the McDonalds she ate helped keep her from being a little too skinny like some actresses can get, but she clearly always took care of herself.
Kurea's performing has historically been one of the biggest selling points for her. She is easily one of the best performers I've come across in all my years of watching JAV. The big thing that has always stood out about Kurea is her slutty, nymphomaniac side. She has always been able to do dominant performances unlike anyone else. It's actually kind of wild just how good she was at it selling all the right enthusiasm and emotion. Kurea was always grinning ear to ear and sticking her tongue out you just had to believe she was having so much fun doing it.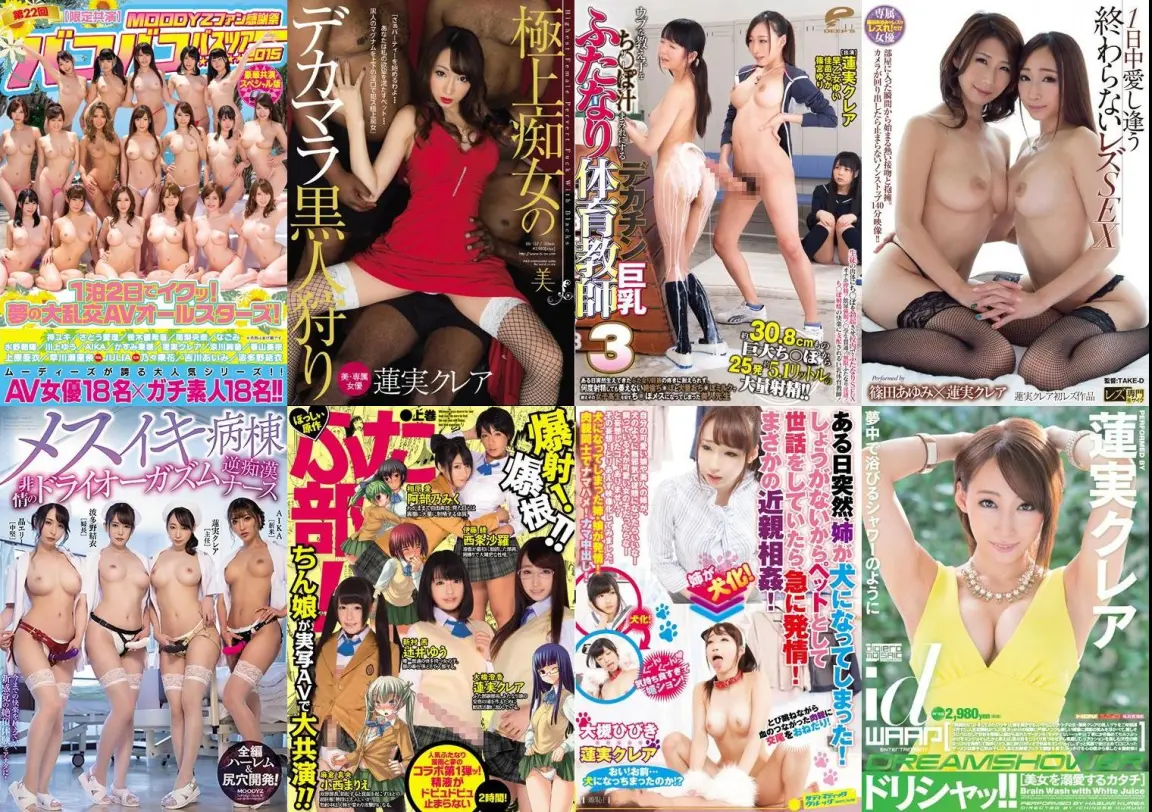 One of the things that has stood out over the years is how varied her releases have been. While many these days like to play it fairly safe, Kurea has never had any trouble venturing out and letting the fun opportunities come to fruition. While she sadly has never done anal (and it is truly the one missing thing from her career) she's done all sorts of less common or wild stuff. The industry just isn't the same these days so I'm glad Kurea got to spend a lot of time during the prime of JAV. She was active when those giant bus tour videos were making their rounds or when the industry was willing to experiment with fun themes like a futa teacher.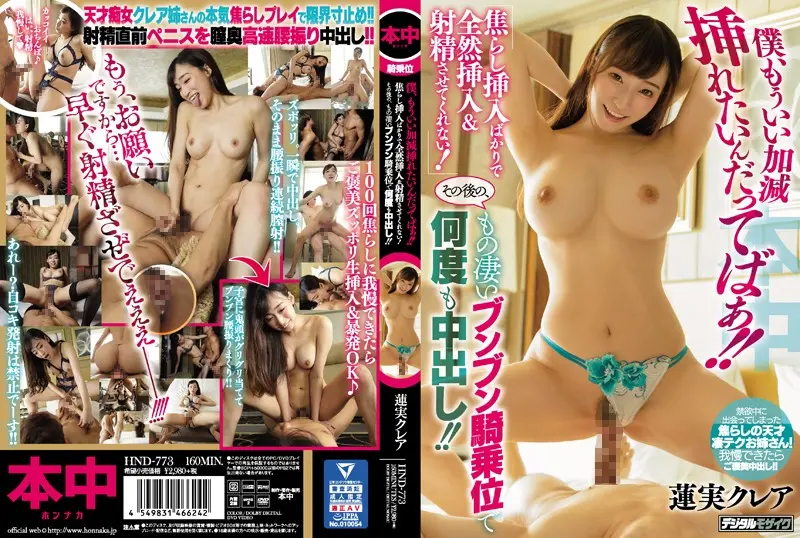 Kurea goes to a hotel room and each scene has fun with the guy she's with.
This video is a perfect example of how the execution of a film can really drive something simple being really special. Even though it's a simple film of Kurea in a hotel room there were all sorts of fun bits to it that she brought to life. Watching her pull a guy around with a collar really set the stage for the type of performance. Even more was when she kept stopping a guy masturbating and really just had fun teasing him. This is honestly just the perfect "Kurea being Kurea" making a video from a boring, uneventful release to something memorable.
9. CJOD-270 - I Spent Christmas Eve with my Two Lady Bosses
Kurea Hasumi & Yu Shinoda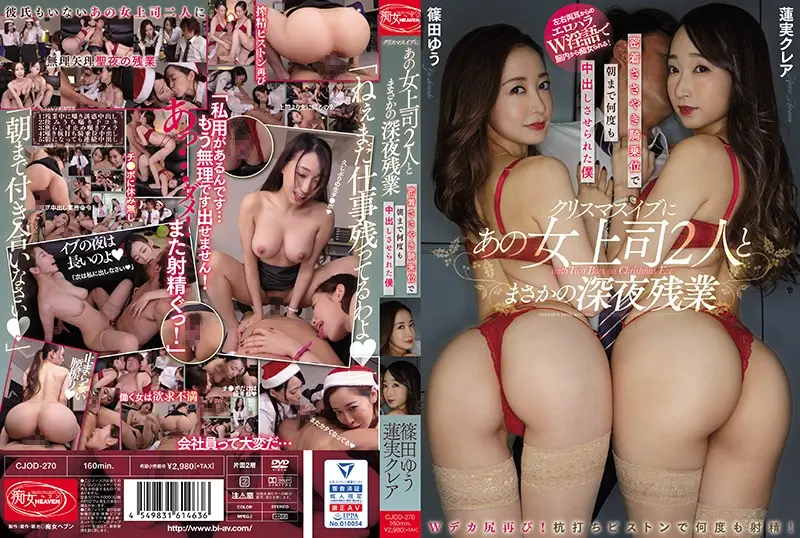 Kurea's teamed up with a ton of actresses over the years and one of the best pairings she has ever had has been with Yu Shinoda. In this video the two are working late on Christmas Eve and take pity on one of their employees also stuck in the office. The two proceed to give him a Christmas present he will never forget.
Let me just say that this is without a doubt the best Christmas video I've seen. The theme was done really well from Santa hats to decorations and even a tree. On top of that the cast was excellent as well. Both Yu and Kurea are great but I think what makes the pairing so wonderful is how similar they are physically. Both slim, both with great asses, both with similar sized breasts, I find that allows me to equally enjoy them so I'm never hoping for someone to be in a particular position. Speaking of which, there's plenty of great sex, including seeing them bent over a desk in the office space, and the two are also just good performers. The spin on it being them as the bosses gave them just enough to be assertive and make sure they were upbeat through. Truly some great stuff and definitely worth dusting off next Christmas when you need some holiday cheer.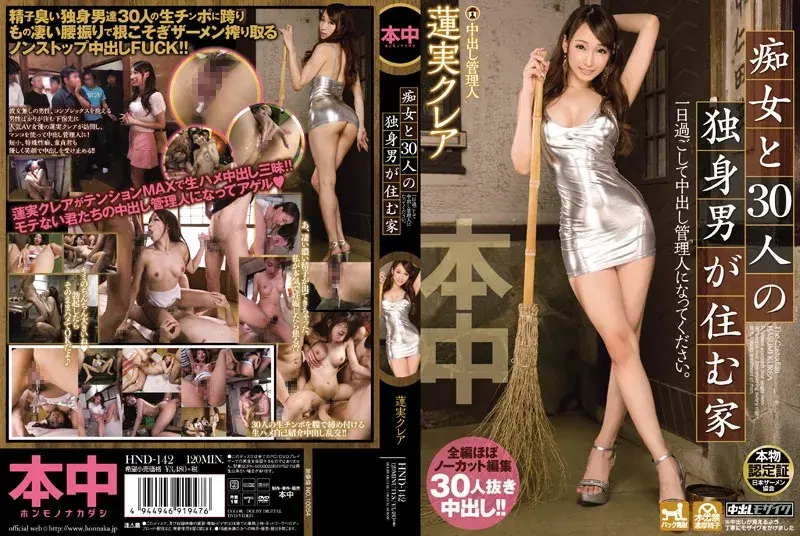 This video is part of a small series all with the same concept: actress goes to a bachelor pad and has some fun with the bachelors there. She goes from room to room having creampie sex with whomever she finds until the grand finale when she gathers them all up to have one giant creampie orgy.
Part of what made this video so great was how casual and carefree it was. In a word where things feel like scripted dramas you've got this, a video where Kurea just runs around having fun. Catch a guy in the washroom? Perfect chance to take a load. Catch a few guys on the couch? Well you can all take turns with her. They played it off as though a lot of them were relatively inexperienced and I found it quite refreshing. Especially with an actress like Kurea, she could have a lot of fun laughing at the guys struggling to have sex with her for more than 30 seconds before busting a nut inside her. While the group scene at the end wasn't quite as good I still found that all the real creampies made the content fairly enjoyable still.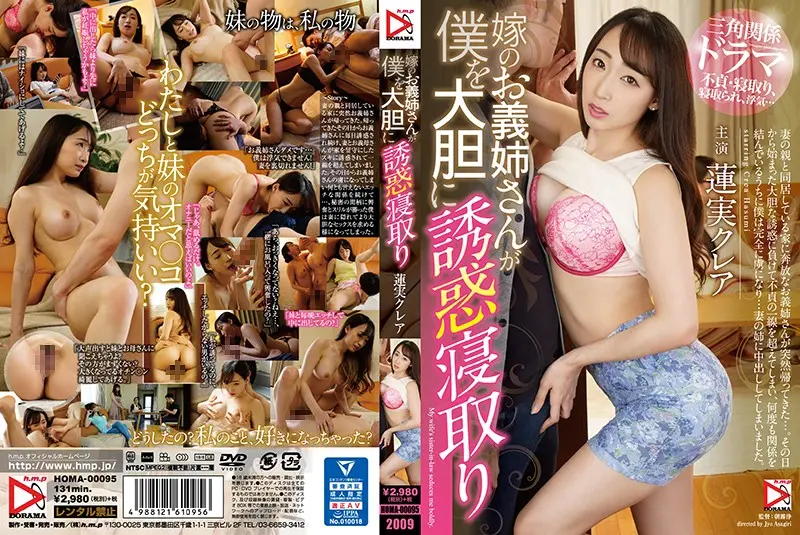 In this one we see Kurea visiting her relatives and moving in on her sister's husband. If at first you don't succeed, try try again, as Kurea won't take no for an answer and finally seduces him to the point he relents and does the deed.
It was really hot seeing her tempt him and as she won't to take no for an answer. Harmless at first when she flashed him on the couch but much more emphatic when she chased him around the house hell bent on having sex with him. Even better, when he ends up hiding in his room she hatches the perfect plan of having sex with someone else and letting him watch. Let me tell you, watching Kurea have sex while she wants you to watch is one of the hottest things you'll ever see. Seeing her ride a guy and grin at you as she's doing it is just so insanely hot, especially when it's someone who can express themselves as well as Kurea. And when you finally get to them having sex Kurea was just as good as ever with fantastic positions and that same great performance. Between Kurea being Kurea and a wonderful plot for her to shine in this is definitely a perfect video for Kurea.
6. MIAA-317
Kurea Hasumi & Mao Kurata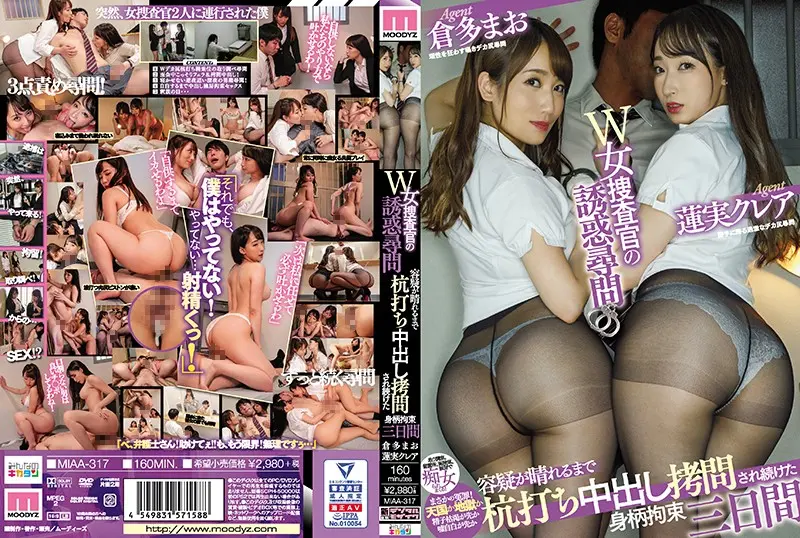 This video puts Kurea alongside Mao Kurata as the pair of them are detectives who use their bodies to get everything they need from the prisoners.
I absolutely loved the plot as it gave them a lot of flexibility to do what they wanted. Kurea is just so good at dominant stuff and Mao was no slouch either. I loved seeing them tag team guys and the two of them did a great job of being enthusiastic and controlling the way you want to see cops. Watching them suck inmates under the desk or ride them was hot as hell. I loved all the different locations they used, whether in an interrogation cell, in the visitor's room, or even just in a jail cell. There's just something about two hot office ladies punishing a delinquent that's so incredible. If you like the idea of cops punishing guys for their crimes using their body then this is the one to watch.
5. WANZ-201
Anri Okita & Kurea Hasumi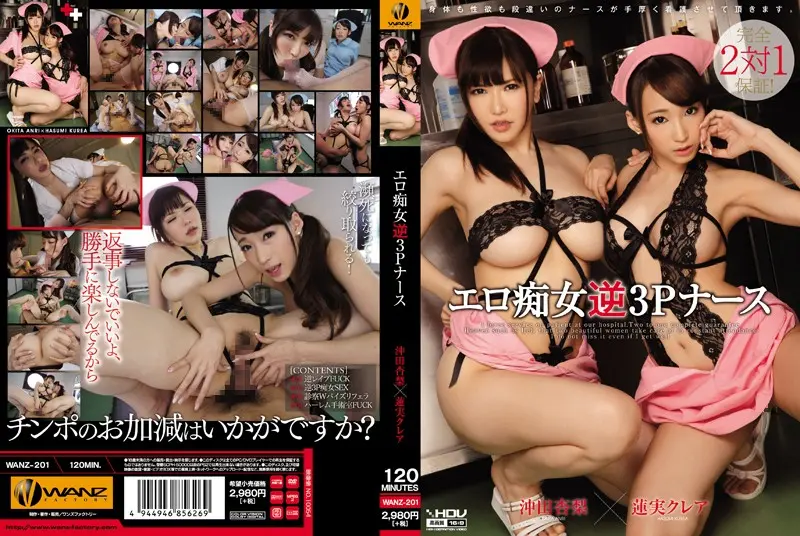 Kurea teams up with Anri Okita to play a pair of nurses that have some fun with the sick patients.
This video is no MIRD-150 but I will say that it does come somewhat close to replicating that. Two wonderful performers with very different bodies that give you a lot of variety. Where Anri is the busty, juicy, motherly figure, Kurea has her ass, slim figure, and spunky attitude. The two played well off of each other throughout the various scenes, especially with how willing they were to engage with each other. It's pretty rare for Anri to do anything lesbian so seeing her suck on Kurea's tits or let Kurea fondle hers was pretty hot. Of course, nurse stuff is always pretty great especially when you've got a lot of POV action to top it all off. Easily one of the best from either of them.
4. MIRD-145
Anri Okita & Asahi Mizuno & Ayumi Shinoda & Kurea Hasumi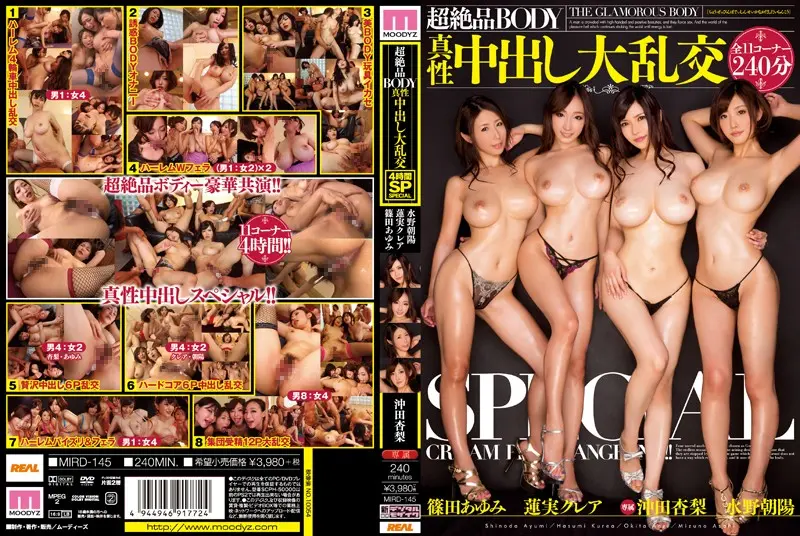 Kurea teams up with one of the most star-studded rosters to ever grace a four actress film.
The video had no plot to speak of but was instead focused on giving you an incredible amount of quality content. Four hours with four incredible ladies? How lucky are we to get such an amazing film. Aside from the wonderful actresses was how well they performed, especially Kurea. They were upbeat a lot and you could really tell how into it some of them were, particularly when Kurea was slapping the guy's ass or biting him for good measure. The best part was definitely when they all got into each other, like watching them play with each other's tits and whatnot. That stuff always goes over well in videos like this, especially when you have an actress like Anri Okita with her legendary pair. Definitely Kurea's premier group video if you just want to shut off your brain and watch hot ladies have sex.
3. LZPL-052
Kurea Hasumi & Manami Oura & Yui Hatano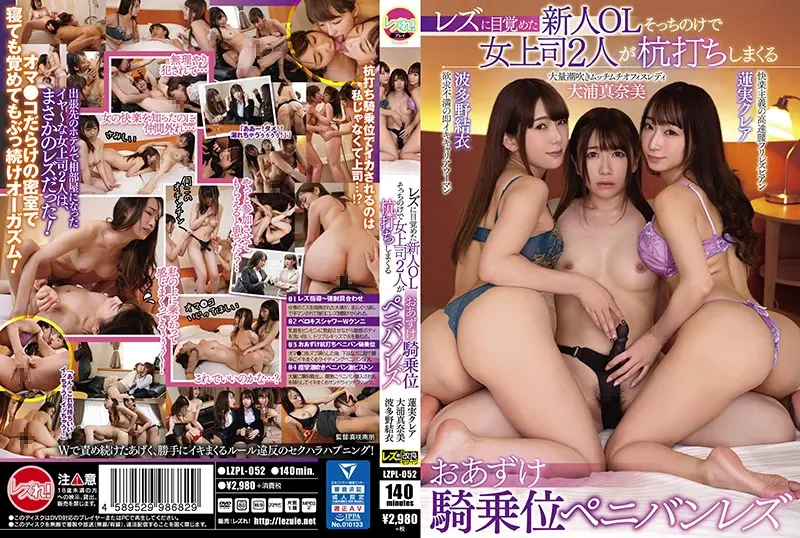 Manami who plays underling to Yui and Kurea at work. When the three are at their hotel room during their business trip Yui and Kurea decide to have a little bit of fun with her.
Right off the bat the fact that this boss hotel video is done in a lesbian style is great. Especially when two of the cast members are two of the best in the business in Yui and Kurea you know you're in for a treat. Absolutely what stood out among this video was all the strap-on sex. The cover shows Manami wearing it and the video starts off with them making her wear it so they can ride her. Later on we get even hotter action as both Yui and Kurea wear strap-ons to have sex with each other. Some extremely hot positions as two different actresses are getting penetrated simultaneously is just so incredible to see. When you couple it with great performances from these two legendary actresses it's no surprise this was one of my favourites of her career. I think the cover pretty much speaks for itself, if you want to watch Yui and Kurea riding that strap-on you know what to watch.
2. BBAN-070
Kaho Kasumi & Kurea Hasumi & Yu Kawakami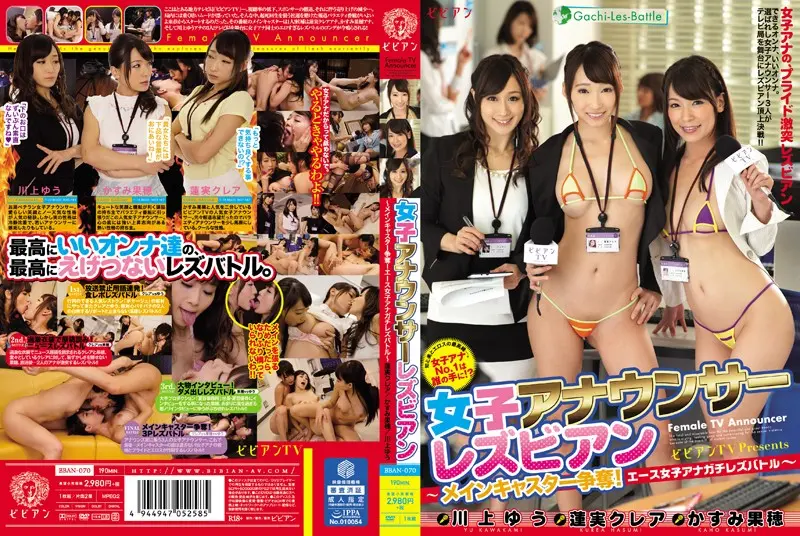 Kurea works at a news station along with Kaho Kasumi and Yu Kawakami. There's a competition among the three of them for the top spot and as any good porn flick would do, the three of them decide to have aggressive lesbian sex to decide who is the best.
First off let's start with how great the concept was. The idea of announcers having hot lesbian office sex was just fantastic. I often find videos like this need just a tiny bit of a backdrop for a plot to shine and this one absolutely had that. The video also split itself very well, with each pair having a scene before finally having a group scene in the end. I always appreciate when videos are able to get all the pairings together as they sometimes miss the ones I care most about. In this one specifically I found all the pairings were great as the women were each known for being capable of these more assertive styles. It wasn't just that the fingering or sloppy kissing was going on but that they put such good energy and enthusiasm of it. Easily one of the best lesbian videos around, especially for this style.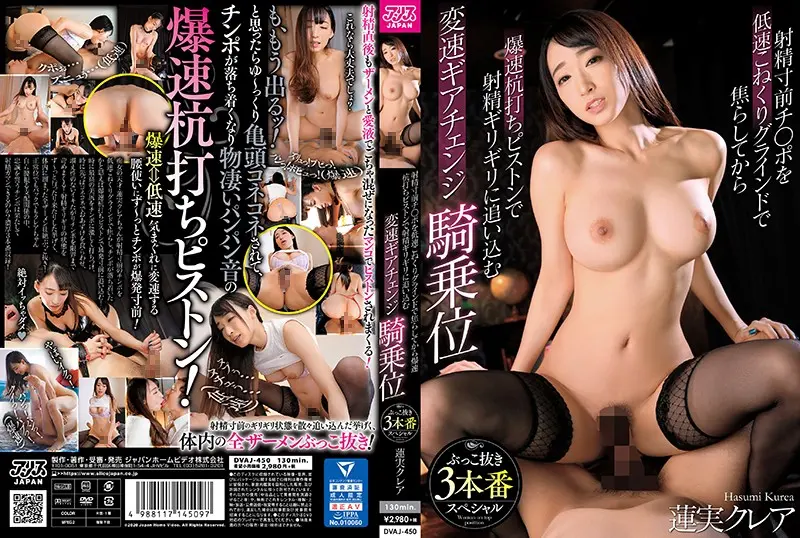 Finally we are at my favourite Kurea video. The plot is nothing more than Kurea being Kurea, but with how wonderful she is you knew it would be a spectacular release.
Such an incredible dominant performance from start to finish which really made the video something. Especially considering the video was premised around that theme, I found Kurea really nailed it. Watching her pump her hips in doggy or go after a guy once he already blew his load, that's exactly what you want to see. When Kurea's sticking her tongue out in pleasure you know she's having the time of her life, and I really buy into performances like that from her. Even despite no narrative when you get something like Kurea pulling on the guy's leash it's just so awesome to see. Honestly, even despite the video being so simplistic relatively speaking, the video just executes every step of the way brilliantly. I can't say enough nice things about Kurea's performances in 2020, especially this video, and any fan of Kurea would love this one.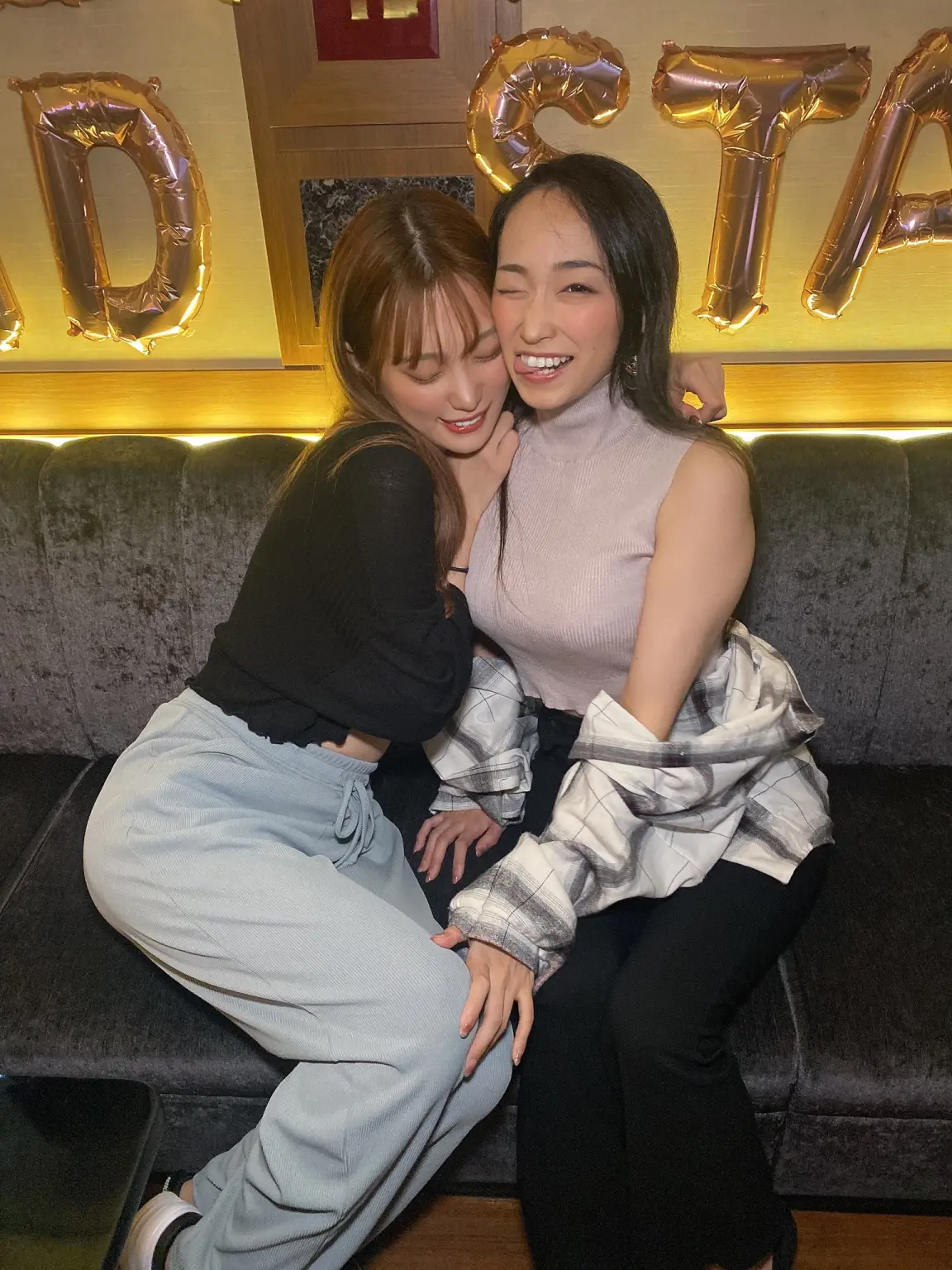 It's always sad to see your favourite actresses go, especially in Kurea's case. She had a phenomenal career, don't get me wrong, but she had a lot left in her when she retired. She left just a year after what I would call her best year ever, so as a fan it was really disappointing. That being said, Kurea had a phenomenal career, one no fan can actually complain about. Few actresses can manage to be as successful as she was and as sad as I was to see her go I can happily reflect on what a great career she had. I think a lot of us are still a little sad she left without a retirement film but at least Kurea didn't fade into the night sky. If you're lucky you can still catch her at her bar where she spends all her time now.
Spotlights
Sometimes, we must endure a harsh diet in order to achieve our goals.
Spotlights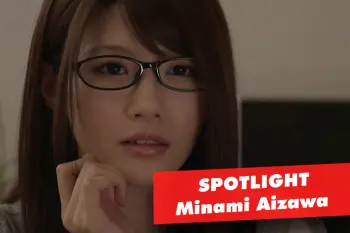 Fried Chikan with the last part of my spotlight into Minami Aizawa with her 5 best titles.
Spotlights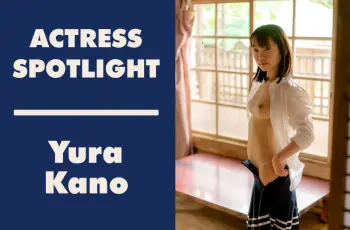 Part 2 of the Actress Spotlight into Yura Kano. This covers her best titles so far.