ZENRA Exclusive Interview: Rin Azuma
Published : March 29th, 2022
Written by vienna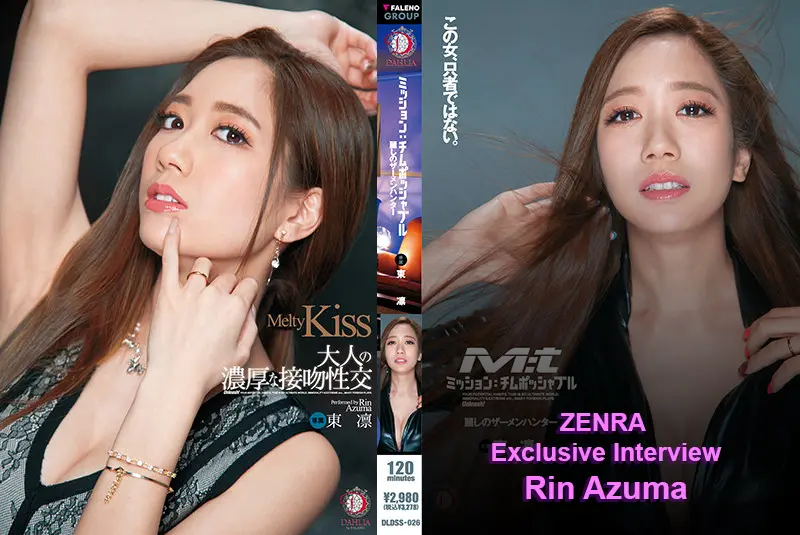 Hello everyone! ZENRA had the privilege of interviewing Rin Azuma, an AV actress with a long career behind her. We had the chance to ask the actress about her experiences with different production studios, details about her preferences and experience in the industry, and also some personal trivia that we found very interesting! That being said, you can find Rin Azuma's Twitter profile here and her Instagram here. Enjoy the interview!
[ZENRA] How did you get involved in the industry? Did you advance through 'water trade' jobs?
[Rin Azuma] Ever since I was youthful, I wanted to do something in the performing arts—be it acting in dramas, on the stage, and even singing or dancing. As for water trade jobs, no, I've never done any. I wanted to have nudes shot of me while I still have a good body. Through an AV director I started off by doing some image videos before progressing to what I do today. Debuting in that 2014 AV OPEN title definitely helped as it did very well and I received a lot of praise.
[Z] What kind of movies do you enjoy filming the most?
[R] I've done more dramas than anything else because that's what I love to do. I'd say it's more of a challenge if there's no scripts.
[Z] How long do your shoots normally take?
[R] Generally 9 to 12 hours. They'll take a full day.
[Z] How has the environment on set changed since COVID-19 began?
[R] We have to take PCR tests in advance and on the day of shoot we ensure nobody is running a fever. Social distancing and other measures during shooting are employed as much as possible.
[Z] Would you ever want to appear alongside a foreign actor?
[R] I haven't yet, but I'd love to if the opportunity comes up!
[Z] Do you think the industry has changed at all since you debuted?
[R] Not related to COVID, but STD testing is significantly stricter now.
[Z] With more and more people producing media on their smartphones, do you think Japan will see an increase in individuals releasing their own content rather than going through an agency?
[R] I'm not even sure who's going hard in that direction. It probably depends on their work ethic. This is a tough question for me.
[Z] Speaking of agencies, what do you consider to be the pro's and con's of them?
[R] The merit is having a whole team that supports your business endeavors. A demerit would be...I haven't really given it much thought, but there could be issues if you and your manger don't get along.
[Z] Why did you transfer over to Dahlia? How does Dahlia differ from other studios?
[R] Before Dahlia, I was working for Tameiko Goro, Madonna, and Venus. These were all cheating married women studios. Dahlia, on the other hand, while focusing on slightly older women, is less about cheating and just wanting to have a good time. What they do is shoot movies featuring elegant and refined, slightly older women.
[Z] Are there any specific types of character roles, or themes, you enjoy or find easy playing? Also, do you prefer being more in dominant or submissive roles?
[R] Another tough question. I really love acting so it's not that hard to slip into a role regardless of what it asks of me. At the end of the day, what you usually see is 80% what the role wants and 20% of the real me.
Check out the trailer of DLDSS-026 here!

[Z] You've been through many studios including Tameikegoro, Dahlia, Madonna and Attackers. Attackers is known by some as the "retirement studio" because once an actress goes there, they generally retire. Did you ever have thoughts about retiring and what made you change your mind?
[R] Excuse me?! Attackers it the 'retirement studio'? I've never heard that before. I've worked exclusively for Tameiko Goro, Dahlia, Madonna. As for Attackers, I never was exclusive to them. That's why I'm still here today performing as Rin Azuma.
[Z] What do you think your best feature is?
[R] My feature? I'm not too sure, but think there aren't many who are similar to me in the JAV industry. If we're talking exact physical features, I'm told that I have big eyes and long legs.
[Z] What is Lords Mobile?
[R] It's a mobile game. I'm the guild leader of [R-A] in a country called #1029. My next objective is to become the king. Let's play together! Please consider applying to our guild if you do!
R-Aがワンダーベースを…❤️
国王になれました????❤︎

あの日からここまでついてきてくれた
R-Aの皆さんありがとうございました????????

そしてR-Aに力を貸してくれた
皆さんありがとうございました(ू˃̣̣̣̣̣̣︿˂̣̣̣̣̣̣ ू)♡

皆さん集まった時にまた記念撮影しようね???? pic.twitter.com/H5telpDrbf

— 東 凛 ★ Rin (@Rin_Azuma0721) March 3, 2022
[Z] Do you watch JAV for enjoyment? What about western porn? If yes for either, what do you watch?
[R] I don't really watch much to be honest. Though when I do, I don't have a specific genre I'd settle on. Rather, I'd see what's popular at DMM and perhaps pick something from there.
[Z] If you had the opportunity to direct a movie with an unlimited budget, what would it be about?
[R] I'd team up with a famous JAV director and we'd collaborate on something together and I sure hope I'd learn enough to do something on my own.
[Z] Are you able to separate the sex and pleasure you may feel on set with the same sensations you feel in private?
[R] So long as our bodies talk the same language, I find it pleasurable whether it's on film or in private.
[Z] How do you make sex look passionate and enjoyable while contending with it being only for work?
[R] I'd like to know the answer to this too! If anyone knows, please tell me!
[Z] Do you have a boyfriend or have had one during your career? How does he feel about what you do? Do you have any rules about what you can and can't do on set and what he can and can't do in private (?
[R] I don't have a boyfriend. If I did, I wouldn't want him cheating on me. As for my own NG's, provided we do acts agreed upon before filming, I have no issues with what goes on on set.
[Z] Piracy is, of course, a huge issue in every industry. What do you think is the best way to tackle the issue? Do you think there are double standards between the expectation of social norms between Japanese and foreigners, i.e. -> expecting foreigners to pirate?
[R] It's a supply and demand issue. If people stop watching them, they'll disappear. So, please don't stop watching them! Also, I'm not sure if it's possible, but maybe police forces can make a fake illegal upload site and prosecute people who upload to it? Either way, at the end of the day, it's not the country of the person watching it that is the issue, but their character.
[Z] Lots of foreigners have gripes about not being able to easily have access to physical items as well as digital media being region blocked. What's your opinion on this, and do you think helping make JAV more accessible across all mediums would be beneficial to the industry?
[R] I sure hope there are more ways where they can legally acquire our content. Otherwise, that makes a case for illegal uploads to continue.
[Z] Are there actresses that you want to work with?
[R] I wonder...maybe Rola?
[Z] Have you ever been spotted by fans? If so, any unique stories?
[R] One incident, in particular, was when I was walking around before an event and a regular shop employee was surprised to see "Rin Azuma walking around like a normal person."
[Z] If you did not decide on doing JAV, what would you be doing now?
[R] I'd work in mainstream media, I think.
[Z] How long do you see yourself working in JAV?
[R] Until I become super famous of course!
[Z] What do you think are your greatest achievements so far?
[R] My current achievements: Winning second place in the 2014 AV OPEN. Also, I was nominated for best new actress in the 2015 DMM/R18 award show.
[Z] Are your relatives and real life friends aware of your career? If yes, how did they react? If not, how do you think they would react if they knew?
[R] Nobody knows!

Check out the trailer of DLDSS-016 here:

[Z] Do you think JAVs could learn anything from Western porn?
[R] I wonder. I don't really watch any western adult video so I can't say. Hopefully, I will see some in the future though.
[Z] Have you ever had "performance anxiety" when working on a movie? Or did you always feel comfortable and relaxed every time you shot?
[R] Before entering JAV, I was already doing some mainstream work so stage fright was a thing of the past.
[Z] Are there any acts, studios, or series that you haven't done that you would like to do?
[R] Before I was an exclusive actress so I was limited in what I can do. Now that I'm freelance, I'm eager to work for various studios and do various things I haven't yet had the chance to do on film.
[Z] Do you prefer being more in dominant or submissive roles?
[R] This is a tough question because I'm pretty good at portraying both.
[Z] What is something about yourself that fans might not know?
[R] People think I'm cold, but that quickly changes when they meet me. I'm told I'm actually very kind and friendly and am quite easy to approach. I hope you get to know me even better if the opportunity arises.
[Z] Any message for your foreign fans?
[R] Hello! I'm Rin Azuma. I'm an AV actress in Japan. I'd love to visit AVN in the future so please look for and support me there! Please also follow me on social media. Thank you for reading this till the end. Let's be friends!
Interviews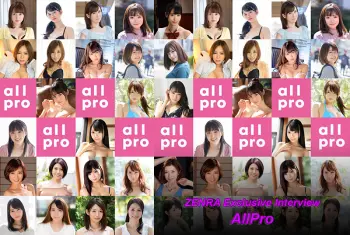 ZENRA presents to you an exclusive interview with one of the biggest JAV agencies, AllPro! Find out about the behind-the-scenes of the JAV industry, and much more!
Interviews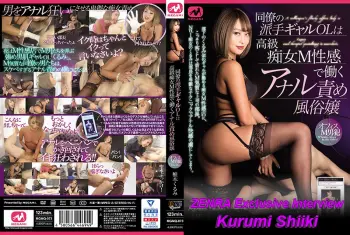 We had the privilege and pleasure of an exclusive interview with JAV actress Kurumi Shiiki! Learn about her in this Q&A provided exclusively on ZENRA!
Interviews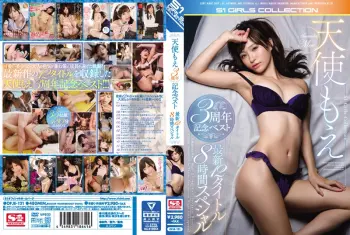 Amatsuka Moe tells us the actor she prefers in bed. The answer might surprise some, and she's far from the only one to like him.