The Colabo Saga - The Big Reveal Volume 1
Published : September 16th, 2023
Written by trapstar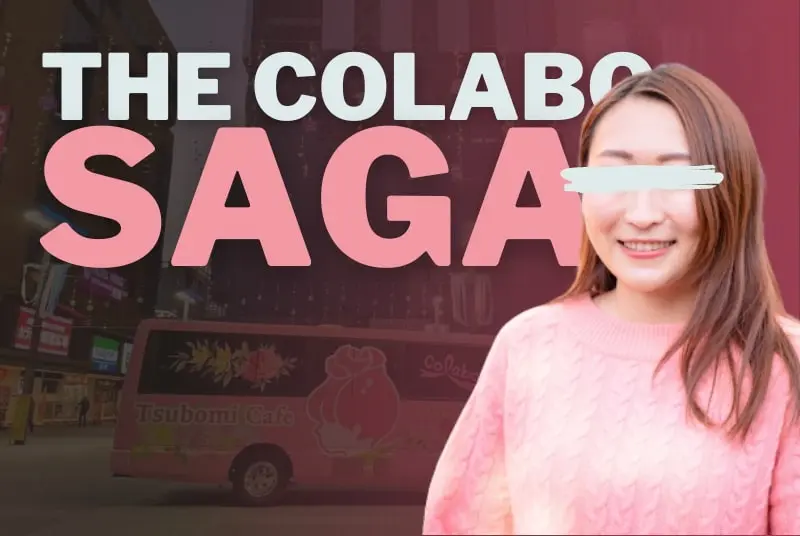 Let us recap what we've learnt from the preceding part of this ongoing series. In The Lone Whistleblower, we got introduced to Himasora Akane who is the person responsible for unmasking the illegal practices of this organization run by activist Yumeno Nito in the guise of doing welfare and whom you'll get to hear a lot hereafter in this column. For the unversed, who missed out catching up with the previous column, we learnt that Himasora, the otaku-head was a game developer who sued his own firm on contract discrepancies before walking away with a huge cash load (we're talking in millions) prior to retiring from the gaming industry. With infinite time in his hand, Himasora is not a noob when it comes suing people, he certainly holds a record for that. Now, his next target is none other than Yumeno Nito, who runs the charity organization and has been found to forge accounts to benefit her interest and the political allies she supports. In this column, we'll reveal layer by layer, the findings of Himasora that have not been made public to the western world yet against Yumeno's organization and what made him sue Colabo in the first place. So, let us begin.
In the first report, Himasora raises the case that Colabo has been invisibly raising the cost of the meals it provides to it's rescue girls. For instance, in their annual report the price of a bento box is several times higher than that of a school lunch. Per his investigation, the lunch expense is 3,960,000 yen. So, if one divides 1,535 lunches by 3,960,000 it comes around 2,580 yen per meal. These cabbage rolls, bento boxes, and instant noodles cost 2,600 yen per meal! The revelation in itself is ridiculous considering how in his own words, Himasora could have a full meal at some posh restaurant in Tokyo. "Yeah! If I had 2,600 yen per meal, I could eat a full meal at Royal Host!" Matter of fact, the bento is provided by a local cafeteria, where adults pay around 300 yen, so I assume the meals to be free as well. It's interesting to note that the cost for the meals has more than doubled in 2021 from the specified figures. As per the Colabo Activity Report, in 2020, 2,030,000 yen were spent for 1,768 meals accounting to 1,148 yen per meal and in 2021, 3,960,000 yen were spent for a total of 1,535 meals which makes the figure to 2,579 yen per meal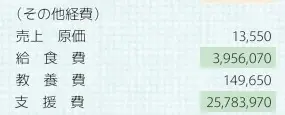 Screengrab of the Colabo's Activity Report. The book mentioned in this column is also an expense
The rescue activities that Yumeno's organization is doing itself is perfectly fine, and I think it's a wonderful activity. However, the expenses don't seem to add up to Himasora's expectations. Matter of fact, a book published by Yumeno Nito is also counted as an expense in the education column. It is kind of funny to wrap one's head around the forgery in Colabo's accountings. Himasora certainly thinks that this the kind of thing where a professor at a university makes you buy his own books. But, the bigger problem is, Yumeno can charge for giving away 124 copies of her book as an expense on her activity report but can't feed runaway girls who can't afford to eat? The note also states that Colabo is protecting runaway girls and teaching them the idea of a certain Women & War which is often loosely referred to as 'Justice Federation' by Himasora in his column, has been pointed out as a catalyst to the Korean comfort women issue. As per my knowledge, Colabo and Pappus are in solidarity with this comfort women's issue group called Justice Federation. They also participate in events and tours on the comfort women issue with the girls they rescue under their programme. As per Himasora's findings, coming of age girls who are linked to the welfare system and should be able to find work normally are being compelled to do unpaid work to help out at Colabo and participate in several of it's political activities rather than landing an actual job. There have also been reports of Yumeno taking these girls who are not aware of the Henoko base issue to a training camp in Okinawa and teach them about the base issue there, that we've talked briefly about in a previous column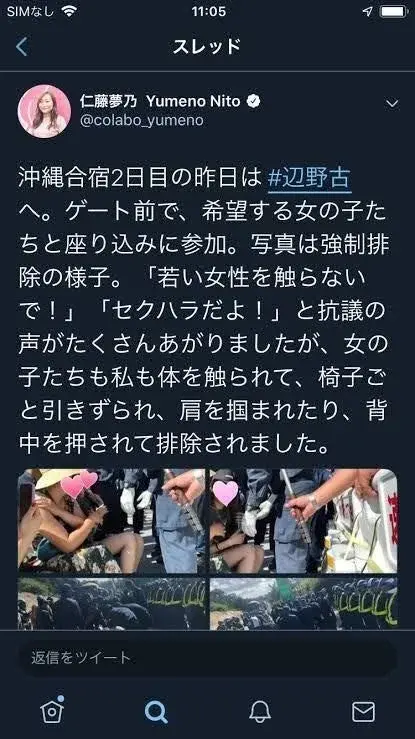 Yumeno's tweet verifying she took the rescued girls to participate in a rally in Okinawa
One revelation that Himasora found startling is that, Yumeno funds the travel and food expenses while at these protests and rallies and settles it under Colabo's expenses. To vouch for this statement, Himasora also plugged the statement of a girl rescued by Colabo, who happens to participate in similar rallies organised by the NPO. Megumi (name altered for confidential purposes): "When I was at the facility, when I went out to eat, for example at Saizeriya, I was allowed to order up to 1,000 yen for the day, and the budget was set. So it was refreshing to hear Yume-san say, "I don't care what you want, what do you want to eat? I was surprised that the money came out of Yumeno-san's wallet.
In reference to the column by Himasora, Yumeno cites: "Sometimes I pay with Colabo's money. Basically, I settle the bill later." In her own book, Yumeno clearly states that it was Colabo's Okinawa training camp, and the girls also say that they were able to go to Okinawa thanks to Colabo, which means the travel expenses were borne by Colabo. Now let us look at the travel and transportation expenses here."
2018 travel and transportation expenses 1.84 million yen
2019 travel and transportation expenses 2,840,000 yen *Okinawa trip*
2020 travel and transportation expenses 1,650,000 yen
2021 Travel and transportation expenses 3.32 million yen
Strange how it spiked during 2021, when the pandemic was at a standstill and a trip to Okinawa was unlikely like the one mentioned in 2019 before pandemic. This certainly gives way more room for doubt. Anyway, let us move onto the next section.
In another post, Himasora claims that Yumeno's Colabo has several accommodations under possession in the local metropolitan area that he touts loosely as 'Octopus Rooms'. He claimed that Colabo makes girls live in cramped rooms to receive welfare, and collects 65,000 yen per person every month from the government. Himasora seems to have found the images on Colabo's official Facebook page wherein one could make from the pics that Yumeno is accommodating these women in cramped rooms full of a luggages. Colabo admits to have started the share housing project during 2016 for females in the range of coming of age to early 20s renting out places in medium to long term basis. From another Facebook post, Himasora decrypts the accounting of these rescue homes that seems to be forged similar to the food bills. It is believed that, the rescued girls are making 150k yen on average residing in share homes availed by the NPO, but there's a catch.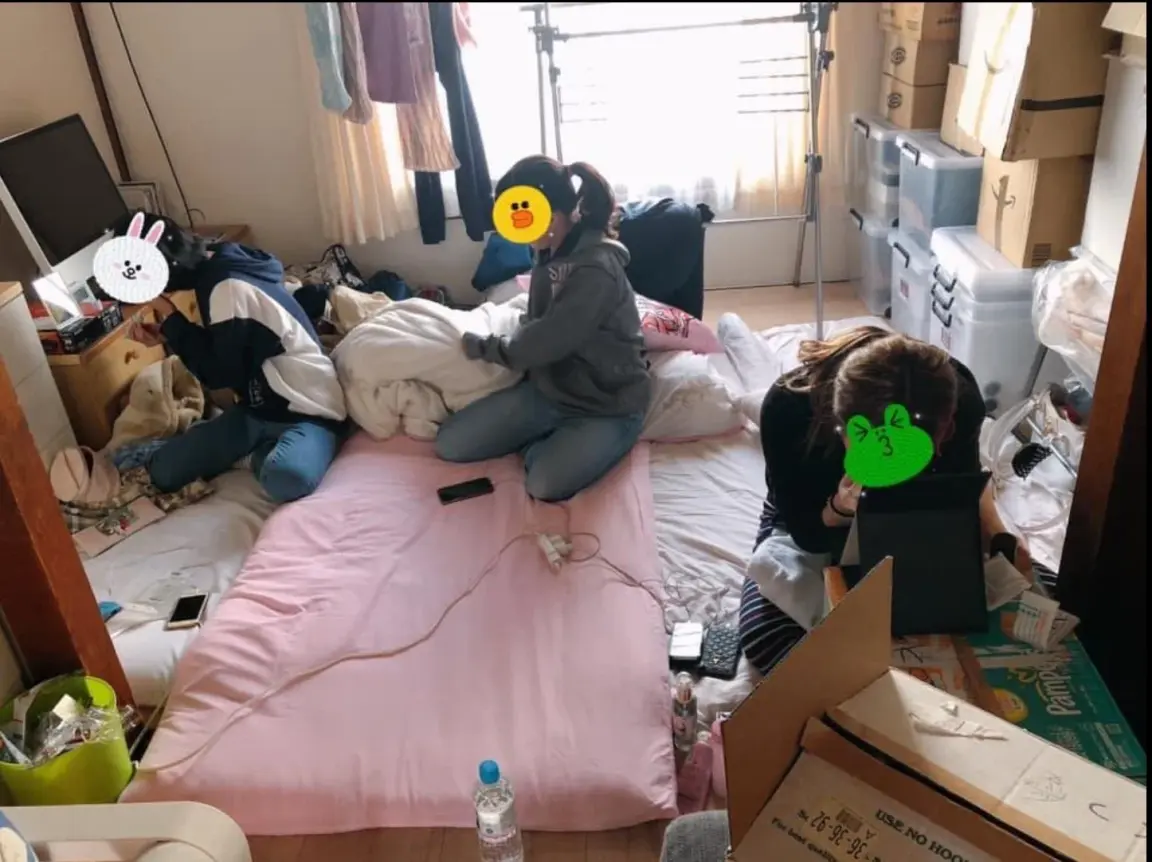 Himasora posted this photo from Colabo's Facebook handle showing how the NPO accommodates girls in cramped apartments
While the rent is free for the first 3 months, Colabo rents out these units at 30k per room to these girls and since it's welfare money because no individual under 18 is earning that kind of a money from a mere part time job to pay for it, it's basically borne by the taxpayers. Here's what Himasora had to say about the same. "141,000 yen income is welfare. At 1,000 yen per hour, she would have to work 140 hours a day, 5 days a week, for 7 hours a day, to make 140,000 yen. Unless it's at night or in the wind, but that's not possible for Colabo. I put the cost of living on welfare for a single person under the age of 18 in Tokyo into a calculation site and came up with 140,530 yen. This is what 141,000 yen really is, isn't it? It's odd that girl B and girl C have the same basic take-home pay value of 141,000 yen, and since girl B is up 20,000 yen from that, the basic value is 141,000 yen. Also, the reason why only girl A has 7,000 yen more is because she receives an additional 7,000 yen if she goes to school, which is tagged as 'high school enrollment fee' under the welfare system. Upon digging up more, the investigator found it fishy that Colabo is collecting 65k yen per individual in accommodation, tax and insurance from the 140k welfare donation per person.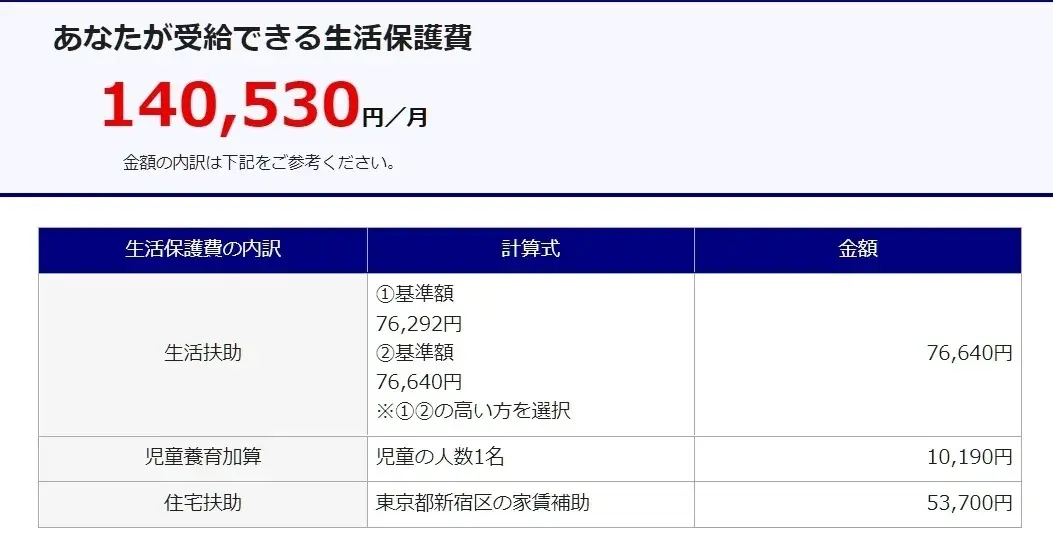 Colabo's Activity Report claiming that the rescued girls earn around 140k yen per month from mere part time jobs


Wait, that is not all, on top of the rent, the NPO's accountants even managed to forge the utility fee to 10,000 yen, which is a flat fee irrespective of of an individual renting a space in Colabo's temporary shelter or not. Himasora sounds puzzled as to what insurance and taxes are under those provisions. Well, they're just a cover-up, but this is probably the amount Colabo collects as well. I mean, what kind of insurance would a teenage runaway girl be liable to? The rent and utilities altogether add upto 40,000 yen, and a mysterious tax and insurance fee of 25,000 yen for the same amount for all three people is listed as an expense. The welfare system is supposed to have some kind of shared house rule, so while they are receiving it illegally, they are also illegally working part-time to help out the NPO with some extra money. And I can't think of any other answer than that they are collecting 65,000 yen a month per individual comprising rents & taxes.
Himasora seems to have accused Yumeno's organization of forging accounts to accommodate for a three bedroom unit whereas, in reality, she has been accommodating these girls in one bedroom units. This seems to be one of their fraudulent practices as per Himasora among many such discrepancies that have come to light since the latter's investigation. While he further interviewed a person in charge of the Tokyo Metropolitan Government, he found out that the concerned person was not aware of the fact and that he had never seen a share house before. Can you guys believe, this is the state at which these kind of affairs are being pulled out.
Here's a short brief of what we've learned so far: Colabo uses lawyers to get the runaway girls to go to the authorities and onboard them on welfare, following which they're put into shared accommodation which again are leased by the NPO or apartments (their own properties) and collects 65,000 yen per month one per individual basis. Donated food is regularly sent to the girls living in one of the NPO's accommodations. These girls are then taken to sit-in protests against the Okinawa base and demonstrations by the Korean comfort women's group 'Justice Federation' where they are mainly involved in political rallies to carry out the group's political motives. There are various suspicions that can only be thought of in this way. Taking a quick look at it, the following are probably the usual problems: illegal receipt of subsidies, illegal receipt of welfare benefits, possession of minors (it would not be legal to separate them from their parents and travel for political activities without permission), etc"
There has been an ongoing medical fraud that has come to light as well. As per the findings, the accounting that includes medical expenses under Colabo's support costs shows that Yumeno's organization has availed treatment 99 times in a fiscal year for a total of 55 patients (read, rescued girls). Song Mi-Hyun, the doctor in-charge of handing cases of the organization quoted via Buzfeed Japan "For those with health insurance cards, insurance treatment is an option. For those on public assistance, uninsured, or those who do not want to use their health insurance cards because they are afraid of being parent-barred, we provide self-pay treatment. In the case of reimbursed treatment, the patient's co-payment is supported by the organization, and the same amount is later donated to the organization." So since they are completely dependent on donations, the same amount is later donated to the NPO through kickbacks. So one might wonder, how many patients have Colabo enrolled under the scheme? "From April last year to March this year, we have received a total of 99 appointments from 55 patients. Self-funded medical examinations. The total of 694,010 yen, including 529,020 yen for self-funded treatment and 173,090 yen for the insurance co-payment, was paid out of the clinic's own pocket." quoted the doctor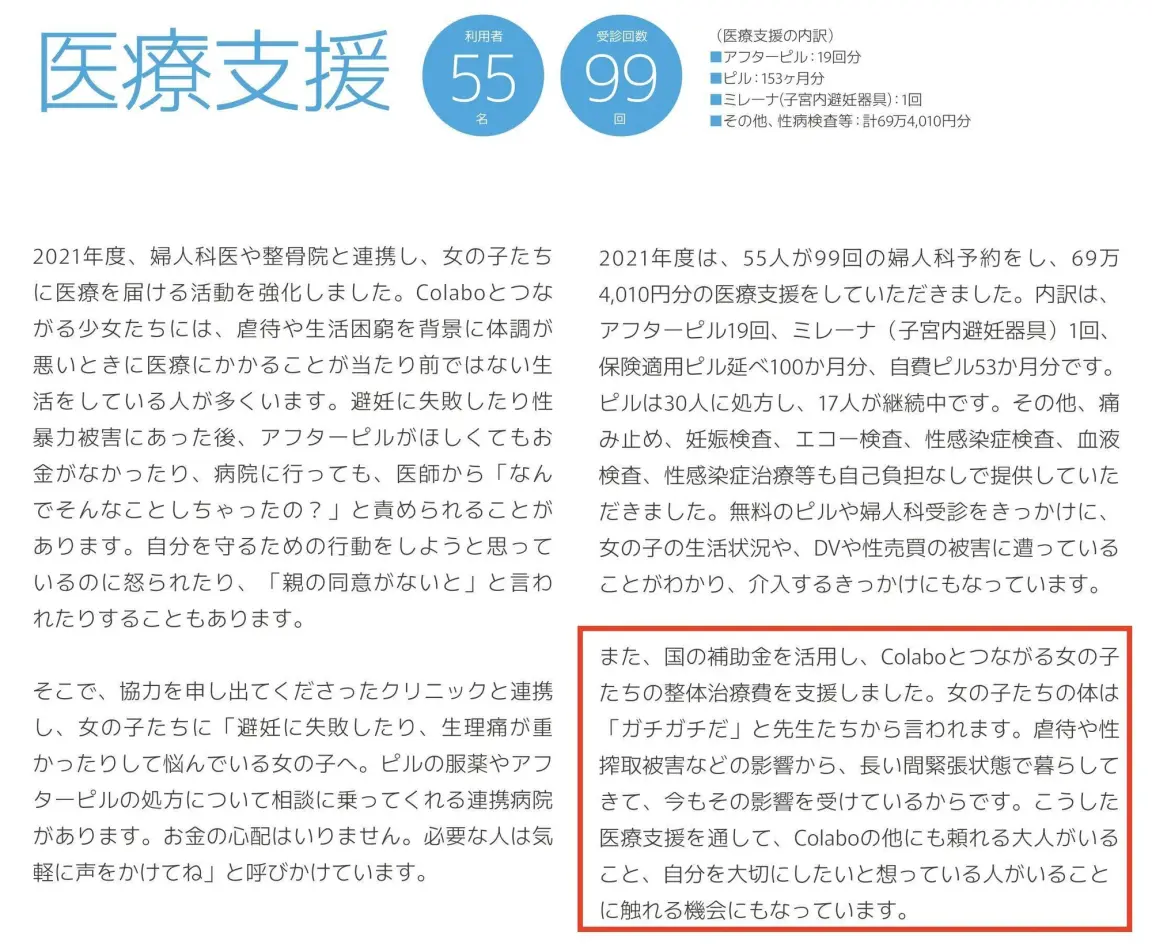 So now you have it! The concerned clinic provides the service at its own expense. It states that after Colabo pays its share of insured medical treatment for the patients consulted, it retrieves the full amount through donations from several of it's donors. According to Himasora, it violates a particular Article 2-4-2, "Prohibition of Inducement by Offering Economic Benefits," of the Regulations Concerning Insurance Medical Institutions and Insurance Medical Treatment. As per the law, the insurance medical treatment must not induce patients by offering profits through kickbacks or other means. Although the clinic is not providing kickbacks directly to patients, they are giving kickbacks to Colabo, which is the solicitor in this case. In layman's term, Colabo's fraudulent accounting is guilty of several accounting irregularities. They put the expenses as support expenses, and then they kicked back all the money by donating it.
To be continued.
Gossip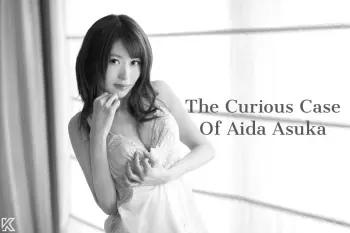 JAV Star Aida Asuka tweeted on Feb 23, 2019 & then she went radio silent. We unravel the mystery behind Aida Asuka's strange death in this article.
Gossip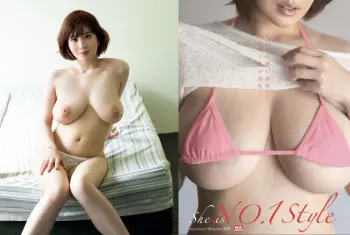 The Japanese blogosphere is boiling with excitement and speculation over S1's big reveal of a big bust beauty tomorrow. Some fans wish this is the return of Rara Anzai lately missing in action, but we know the answer already.
Gossip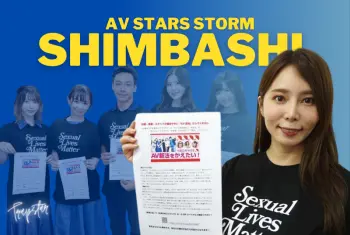 Tokyo's Shimbashi subway witnessed an exemplary affair in the adult industry's recent history. Read on to find out what went down!