5 JAVs That Will Make You Think You Are Back In School
Published : March 9th, 2021
Written by vienna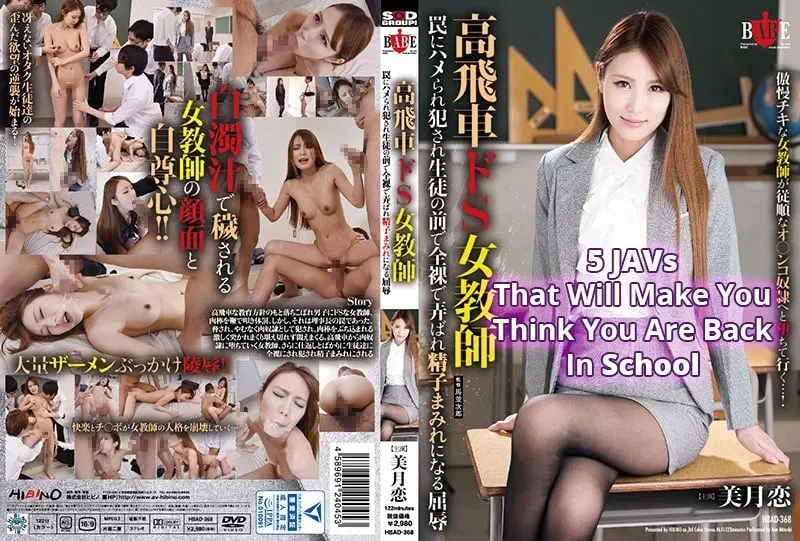 Hey everyone, vienna here! Question: did you ever go to school? Well of course you did, silly! Otherwise you probably won't be able to operate a computer and come to ZENRA to read this article. Jokes aside, I don't know about you, but at least I don't particularly regret my time in school. I'm particularly referring to high school, less so middle school and later college. But, like most of you, I too have spent most of my active life so far in a classroom, enclosed within four concrete walls and cold aseptic tiles. To tell you the truth, I didn't like the cold environment in those structures that were supposed to display life; in fact, I wasn't even a big fan of the subjects taught (a fault shared between me and some of my teachers, to be honest) -- so, you ask, how did I survive that hell on earth? Trivial answer: imagination.
And I don't intend to go any further, I'm sure you understand. Some days, I'd like to return to those cramped places, perhaps with the personality of now, and some fictional products manage perfectly to immerse you in school environments like few others: I'm thinking of anime, manga (of which, as you know, I'm a big fan), but also pornography.
The school, in fact, is one of the key settings of pornography, one of those on which the industry has ground a lot of money: the reason is obvious, and I just explained it to you -- I, like many others, am just another consumer. Now, let's stop talking, and let's see a personal selection of 5 JAVs that will make us feel like we're in school again, just like we used to (or almost)!
HBAD-368
Ren Mitsuki − "Dominant Femdom Instructor Gets Caught in a Trap and is Covered in Her Students' Cum"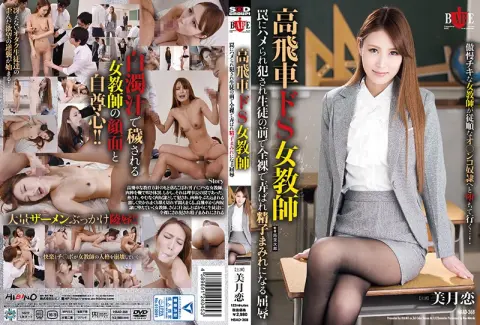 What were your professors like? Some of my teachers, generally women, were truly terrible to us students: lots of homework, relentless severity, and little room to enjoy the true joys of youth. I want to stop here for a moment, since we've met the key word of this JAV produced by Studio Hibino and starring the very sweet Ren Mitsuki: I'm talking about severity. Sternness can undoubtedly be a huge annoyance when in mundane, everyday contexts... but what happens when you insert a prolific severity like that of a teacher into a pornographic film? The Japanese really know how to portray these power imbalance situations, where one side clearly has far too much decision-making power over the other. Here, this interesting film promises to portray just that situation, but not in the way you expect: no student-professor relationship, but rather talks about a relationship between mature, adult colleagues, absolutely consensual and aware of what they intend and want to do.
Now, stay with me: you may be wondering "how could I possibly identify with something like this? I've never been a professor!" Well, dear me, have you ever had a professor? You know, one of those newcomers who puts her whole self into teaching, who has a great deal of hope for future generations, and who puts their every hope in education? And who, perhaps, are also particularly physically lent? You get the idea of who I'm talking about. I'm talking about the newcomer, the substitute teacher, the new little flower in the big high school tree. Obviously, such beauty won't bother with you at all: after all, you're (or rather, were) just a kid, a horny student. But... what if you went back there, as an adult, and she was still in the flower of youth? Exactly. Now we understand each other. Well, this movie is exactly that. That's what you can take from the plot on a general level, or at least how I interpreted it from my perspective, and I think it's a valid perspective to enjoy this 2 hour long film even more. Blowjobs, handjobs, black stockings, bukkake, and unbridled sex on school desks -- what more could you want from a movie like this? A decent film with a good performance from Ren Mitsuki, whose acting I definitely want to see more of. Get into the shoes of his colleague right away and go see this movie!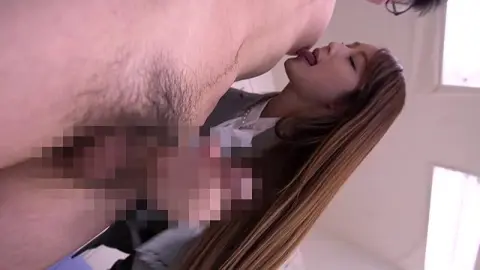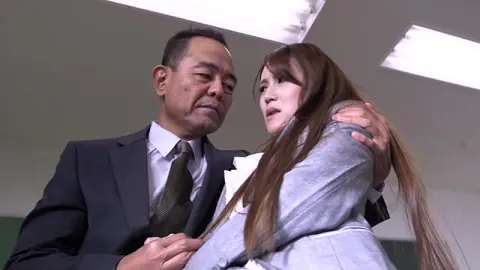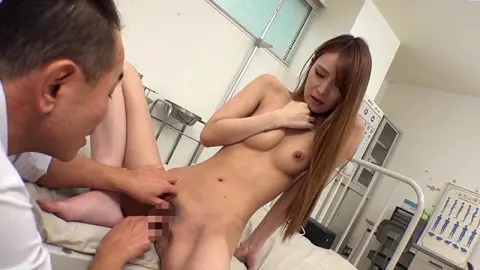 Check out the trailer of the movie here:

HUNTA-152
"A Part-Time School Rich With Wives! I Quit High School And Started Taking Night Classes, And All My Classmates Are Much Older Wives! They Think I'm So Cute Because I'm Still High School Age, So In A Drastic Change, I'm Now Really Popular!"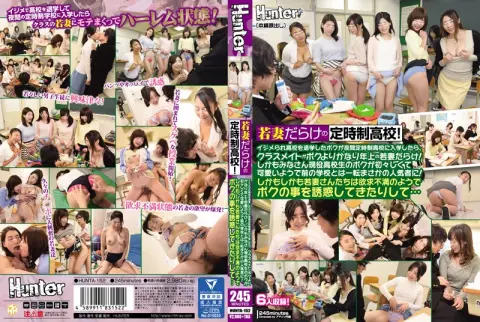 Studio Hunter is at it again, and I like it. What to say about this movie? The title is so long that it practically spoiled the entire plot. Immerse yourself in this point of view you failed your classes. You failed, again and again. You've never graduated from high school, and now you're made to take night classes at a school in the suburbs to get yourself back on track and finally enter the working world. Ignore the exams you didn't study hard enough for, and focus on the book in front of you. Are you struggling? Go ahead, put in a little more effort. What do you say? Five beautiful wives want to take turns jumping on your dick? Wow. You're a real king.
The narrative of this movie is moderately erotic because the setting and context are so damn believable that even just opening the trailer for this movie made my dopamine levels shoot through the roof. And in the end, this movie is just what we were looking for, right? We're back in school. For real, and we're not alone -- after all, the more the merrier!
The actresses in this movie, a couple of dozen minutes into the movie, completely drop the acting and decide to just fuck: it's a choice that, to be honest, I completely approve of. The sex is really great and is largely the film's strongest point, especially since we get a very diverse and joyful set of wives, which largely succeeded in making me empathize with the lucky student following that bench. Group sex is very frequent, and there's also a lot of kissing, boob licking, and soft-porn of this sort, which I really enjoyed considering the context. All in all, a good film in a particular setting that I recommend to anyone, hands down.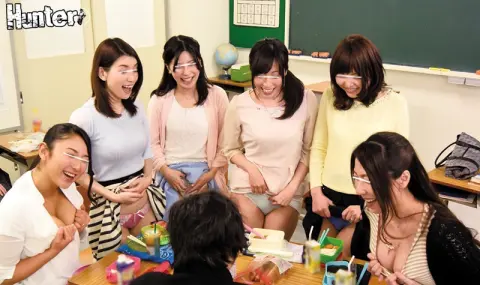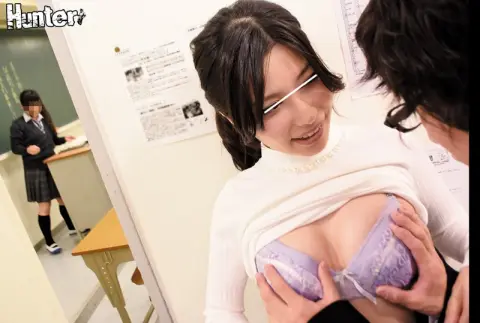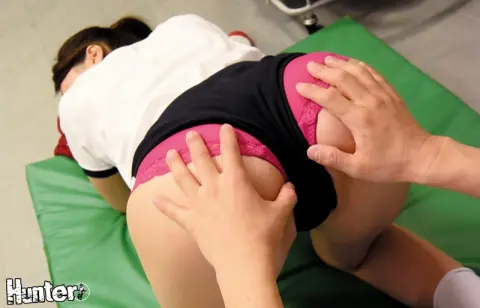 Check out the trailer of the movie here:

SDDE-535
Yuzuka Shirai, Noa Eikawa, Makoto Toda, Hikaru Misaki, Yuna Ishikawa − "From The Wall! From The Desk! From The Chair! Raw Cocks Are Popping Out From Everywhere At This Popular Prep School, "The City Cock-Sucking School" My Graduation Feat. Makoto Toda"

Please watch the trailer for this movie below. It is, in the most absolute way possible, one of the smoothest transitions from a mundane situation to a porn scene I've ever seen in my life. And it's so damn erotic, my God. This movie is a classic, nothing particularly original, or particularly great. It's just good, and it fits in perfectly with what we're talking about. Now, my high school lacked paint on the walls and a couple of carpentry jobs certainly wouldn't have displeased that battered building, but the school in the movie I present to you is quite literally Tom and Jerry cheese: full of holes. Everywhere, and for no apparent reason, the sweetest graduates of this fictional school, namely Yuzuka Shirai, Noa Eikawa, Makoto Toda, Hikaru Misaki and Yuna Ishikawa, must fulfill their first duty as JAV actresses: sucking cock.
And that's what they do for almost the entire duration of this long film, which establishes itself as a good and decent classic of a timeless genre, namely gloryholes. I've decided to include this film in my personal selection of JAVs that best succeed in getting us back to school because the acting of the actresses is of the highest caliber in this film. Maybe their names don't jump out at you right away, but their performance - both in the sex scenes, full of creative cues and imaginative use of ordinary school equipment, and in the acting out of the everyday life of a high school graduate - is truly amazing. The cast really managed to impress me in a positive way, and their purposefulness at being mere cumdumpsters but all-around actresses in their own right genuinely impressed me: this, as well as the implied quality that the studio never ceases to offer, have prompted me to add this film to the list without ifs or buts. Give it a look, and I promise you won't be disappointed!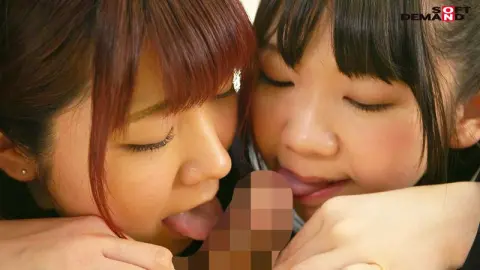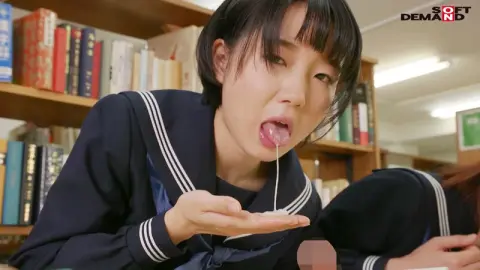 Check out the trailer of the movie here:

DVDES-693
Yui Hatano, Yuki Natsume, Nanase Otoha − "Lesbian Students VOL. 9 Character Destruction - A Strict Female Teacher's Downfall"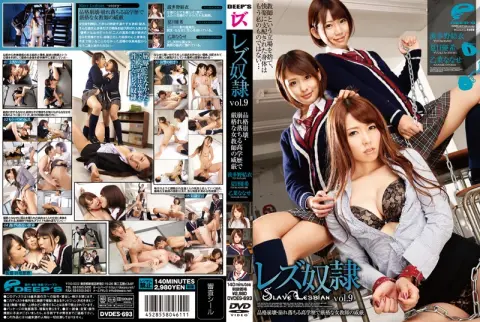 The first and only lesbian-themed film, for obvious and clear reasons, I suppose. This film, produced by Deep's and starring Yui Hatano, Yuki Natsume, and Nanase Otoha, has a little bit of everything for everyone. You have both lesbian students and lesbian teachers; both wild, violent sex scenes and intimate, suave kisses; both the coolness of the classroom and the warmth of the nurse's office (which many of us craved in our youth, come to think of it). The lead actresses have, in my opinion, among their best roles in this film: their perfect bodies interlock with each other in a graceful harmony of jerks, sighs, and screams worthy of the name of the studio that produced the film.
The plot both lays on the abuse of the classic mechanics of power imbalance in the teacher-student relationship, as seen previously on this list, but also offers sex scenes between co-ed students that I truly appreciated in their authenticity.
If you're particularly fond of it, I found that the footjobs and generally the focus on more niche fetish that the actresses put forth in their performance in this film stand out for their spontaneity and sweetness, as you can see in the photos below. This film can only be described with two words: quality. And lesbian sex. Wait, maybe that's three... Anyway, never mind. What matters is that this movie has crazy sex and a pretty good plot. Run over and check it out and tell me what you think!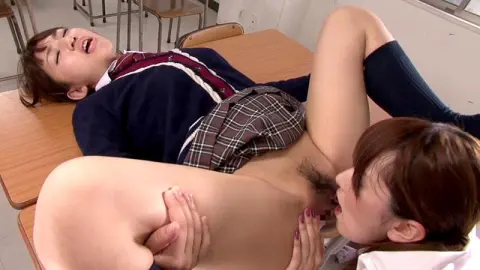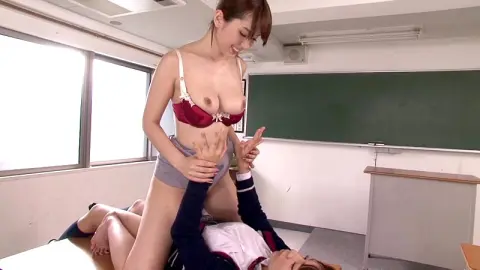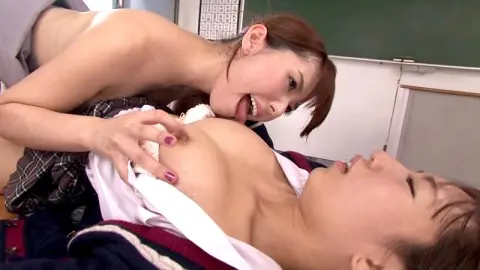 Check out the trailer of the movie here:

ZUKO-093
Kurea Hasumi, Nanase Otoha, Minami Natsuki, Mai Hagiwara − "I Got Impregnated Because My School's Student Council is Too Strict"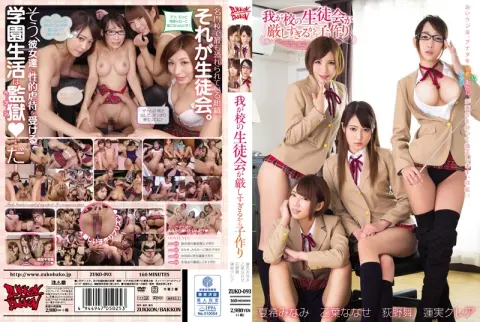 The deviousness of Studio Zukkon / Bakkon manifests itself in all its magnificent brilliance in this 5-years-old movie starring Kurea Hasumi, Nanase Otoha, Minami Natsuki and Mai Hagiwara. I mean, it's pretty clear who are they cosplaying as, right? Well, for those of you who live under a rock or just don't read manga or watch anime, these beautiful actresses are cosplaying the main girls from Prison School, an opera that usually crosses the line between safe for work and definitely not safe for work. We are presented with a typical situation that could as well occur in a chapter of the manga: a male prisoner of the school (of course, this school imprisons just males, for the sake of the narrative) must confront 4 of the top female students of this highly acclaimed school. They are all here: the president of the student council, the vice-president, the 'bodyguard' of the president and a generic female student of the school, who would be the one that the protagonist in the manga is in love with.
The situation is pretty clear, and everyone has its roles and you are ready to receive your punishment. I think that Prison School, and this JAV which is literally a porn live-action of Prison School, is the epitome of female dominance porn. There are actual toy whips in this movie, big ones, and the girls aren't afraid to use them. So prepare yourself, because this is going to be one hell of a ride. The movie itself heavily focuses on group sex to portrait the difference between the girls, who are all amazing in my opinion. They all have a different approach to sex with perfectly reflects the character they are acting as, which is a pretty nice addition if you actually read the original opera. I added this movie to the list because of the same reasons as I added the very first one on this list. Femdom in school settings really appeals to me, for some reason. I wonder why. Anyway, overall the sex is amazing. The performance of the cast was solid and the movie itself is pretty decent. Definitely give this one a shot.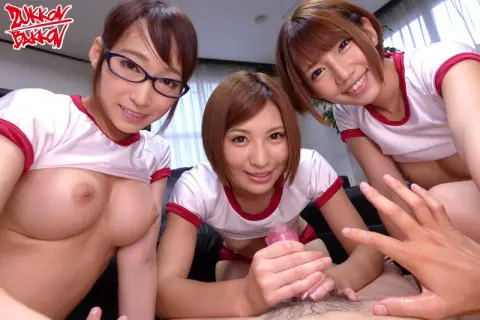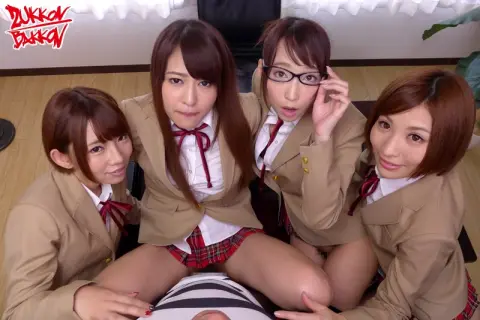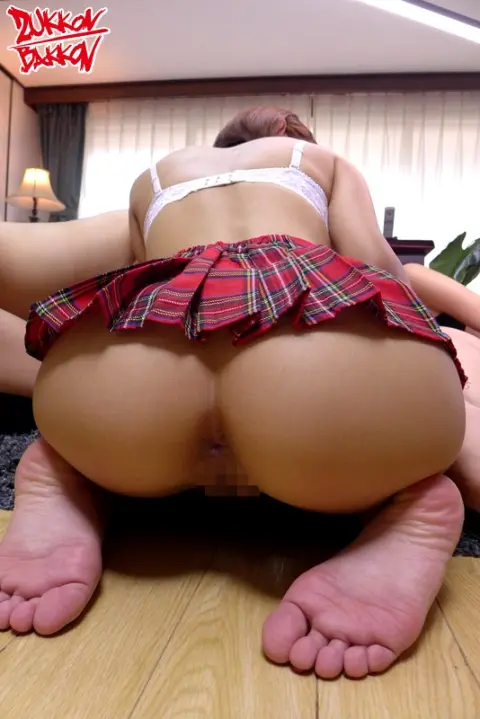 Check out the trailer of the movie here:

Well, that's all for today, folks! Thank you for sticking with me once again, and let me know what you think of my list in the comments. See you soon!
Top Lists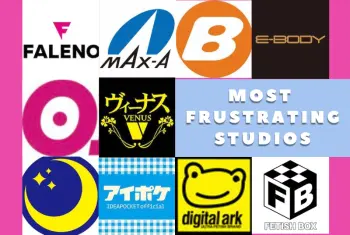 Some studios make you want to pull your hair out in frustration. The potential is there but squandered. In this post I'll highlight seven studios that consistently leave you wanting more.
Top Lists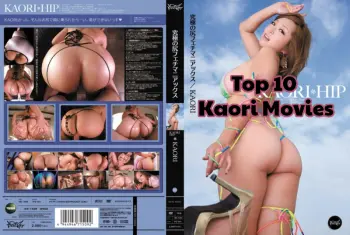 Who doesn't love a big booty? Kaori boasts one of biggest and best asses around so if you consider yourself an ass lover then this is the list for you.
Top Lists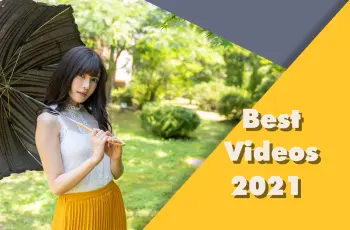 Our last Best of 2021 and we end with my top videos of 2021.