JAV Parody Explained: Shiofuki - Asahina Nanase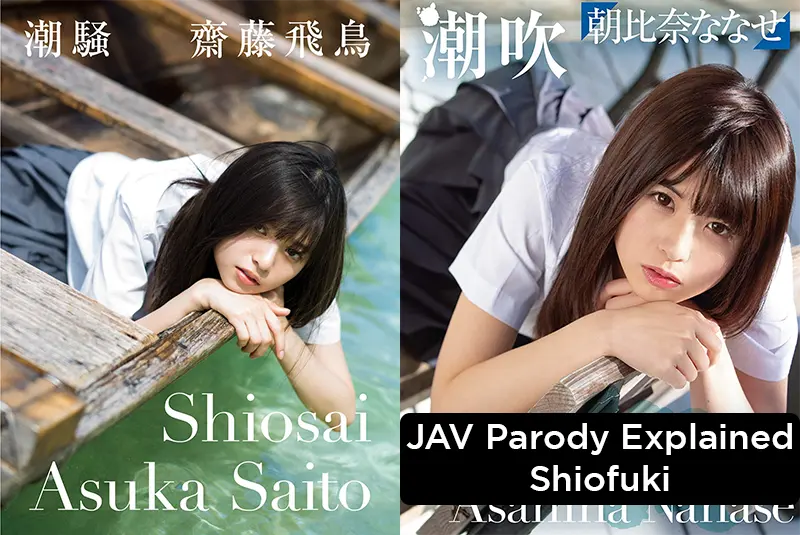 Duration: 130 Minutes
Studio: Muku
Genre: Look-alike, Idol/Entertainer, Creampie, Squirting, 3P/4P
Release Date: April 9, 2021
Context and Comparison
Before heading into the review, I'd like to give a brief introduction for Asuka Saito. Asuka is the youngest founding member of the popular idol group Nogizaka46. She recently announced her graduation from the group at the end of 2022. Being one of the main faces of Nogizaka has lead to Asuka's numerous TV appearances and commercials with the group. Outside of her idol activities you might recognize Asuka Saito in her starring roles in the live action adaptation of "Keep Your Hands Off Eizouken!" and the Japanese film remake of "You Are the Apple of My Eye".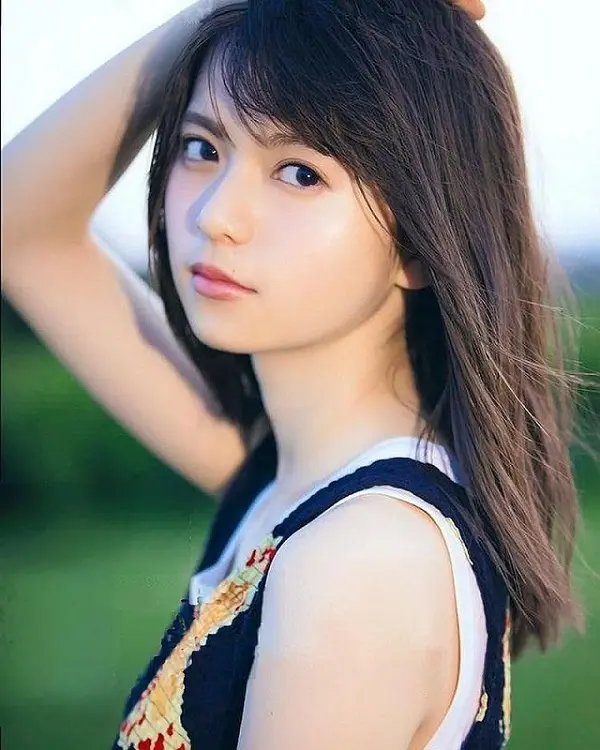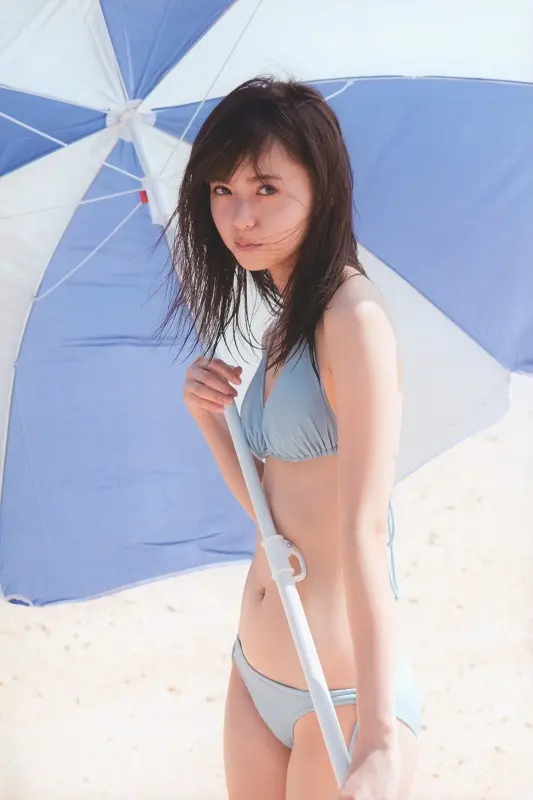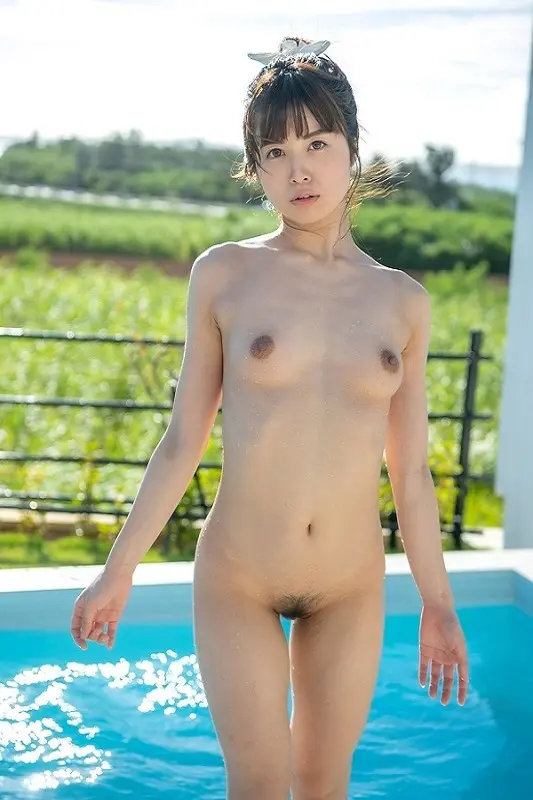 Nanase Asahina portrays Asuka for the JAV parody and while they look similar in the cover, I don't think anyone could really match the cuteness Asuka's face. Japanese media has claimed Asuka Saito as the idol with the smallest face (50 cm head size). In East Asian cultures the smaller your face the prettier you are, while I don't really prescribe to this beauty standard I do think it does contribute to Asuka's cuteness. Nanase is also cute in her own right but the main difference between the two is that Asuka's face gives off a more tsundere vibe while Nanase's evokes a more innocent and naive feeling. This goes for their personality as well as a running gag for Asuka's TV appearances is that she has a "poisonous tongue" and is prone to accidentally insulting people as seen in this Snicker's commercial, meanwhile Nanase looks like she couldn't even hurt a fly if she tried. As for their bodies I very much prefer Nanase's as I think Asuka is way too thin for my taste.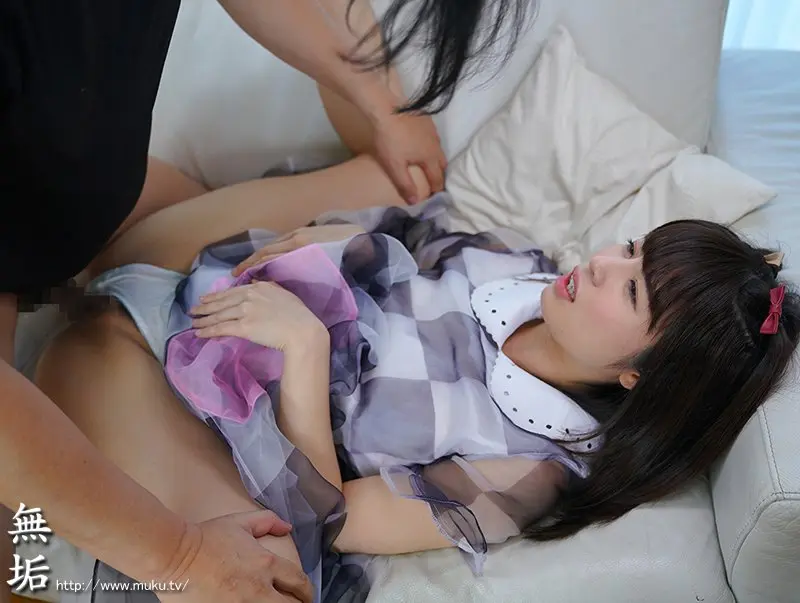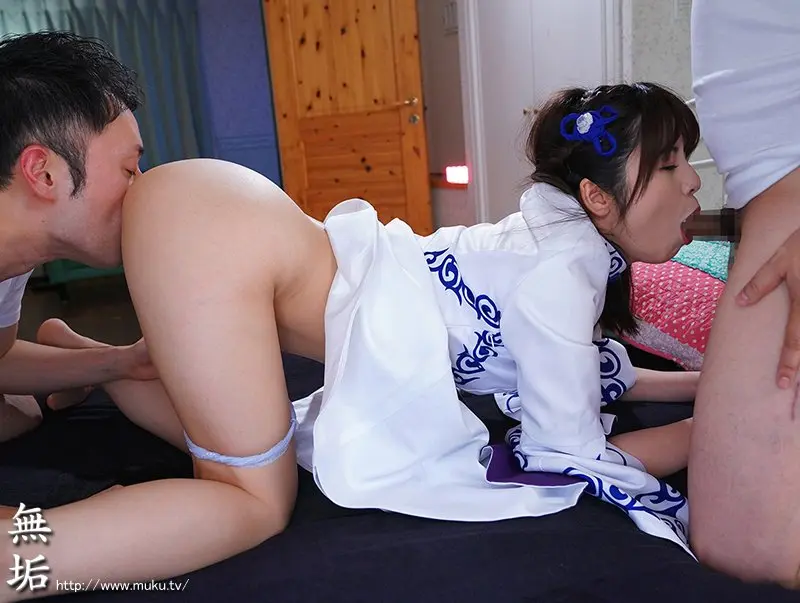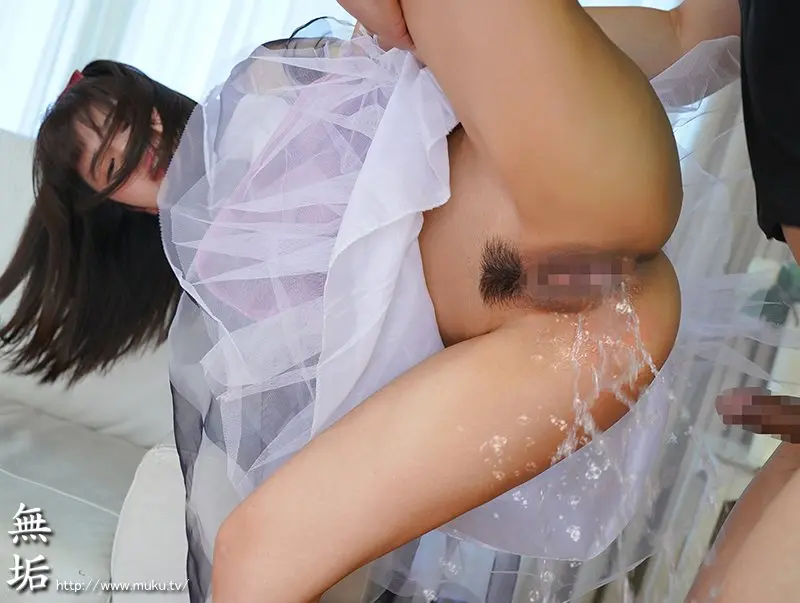 MUKC-016 essentially has no plot, just a collection of scenes of an idol being slutty and having random sex. It is so averse to a plot that it even had a karaoke music video like transition where they just showed calm seas. The sea is the theme of the photobook source material which is also referenced in the title. Shiosai 潮騒 translates to the "sound of waves", which is also the title of a great Yukio Mishima novel. The parody uses funny wordplay to get its title Shiofuki 潮吹 which translates to female ejaculation, which Nanase shows off in multiple scenes.
Production Quality and References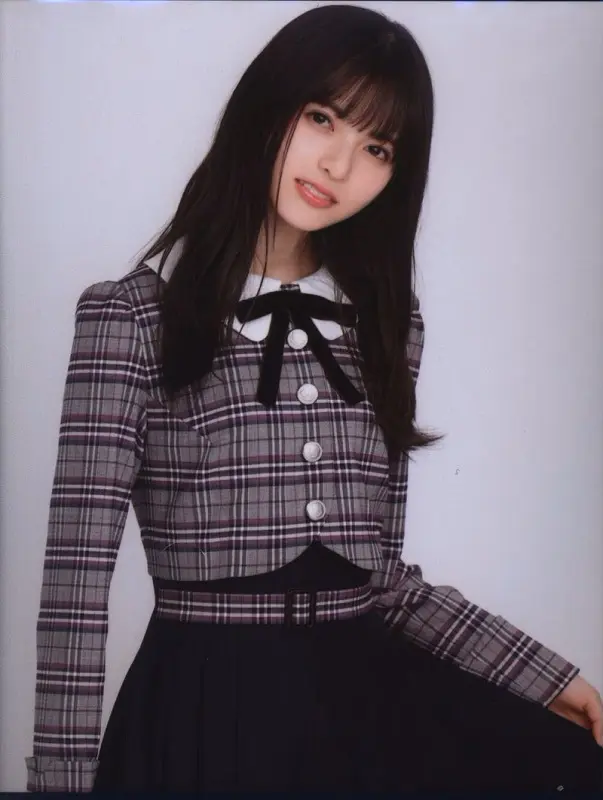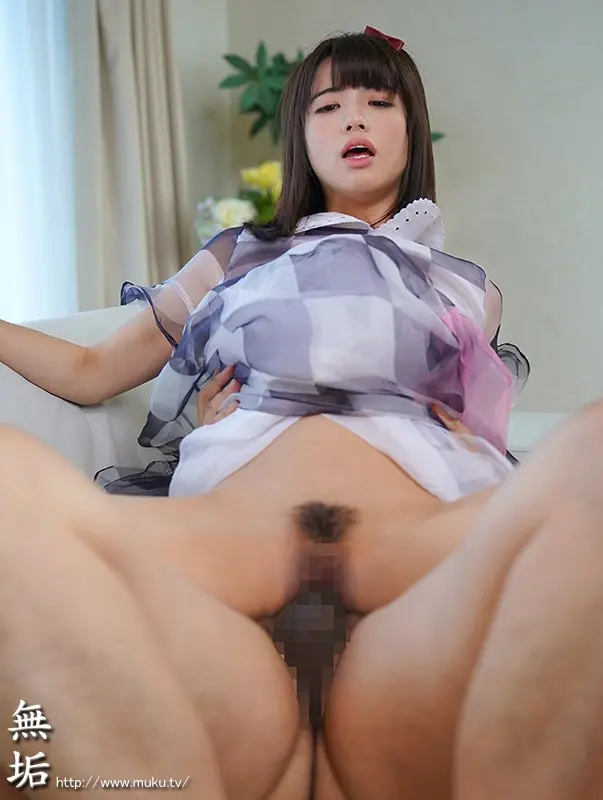 The production quality on this AV is not the best and you could notice it right from the first scene. The AV references Nogizaka's iconic checkered school uniform costume and although the one they use is quite similar to what the idols use it is apparent that there are problems. The skirt is has a couple of layers and is too long for Nanase's legs. There were times where you could see the actor struggling to part the skirt so that they could show Nanase's goods. The worst part was when they were in doggy style and you could not even tell if the actor was moving because skirt has blocked the whole hip area.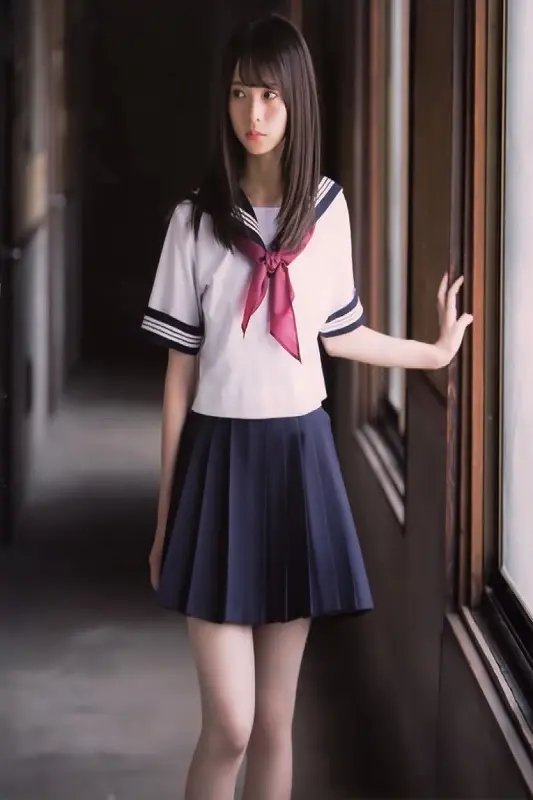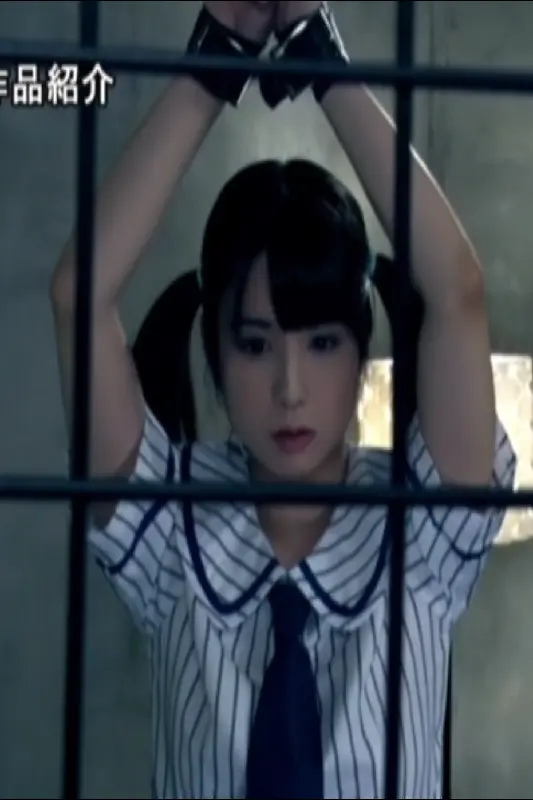 The second scene has Nanase in the plain sailor school uniform as worn in the cover and is set in a typical classroom. There isn't much to say about the production other than the photobook has Asuka posing with that uniform in a beach which is understandably hard to emulate in a JAV due to budget constraints. The third scene has Nanase bound in a cell wearing a striped dress. Her costume is also something that idols would usually wear in their live performances. However this scene strays far from the summer and sea theme of the source material which is quite bizarre.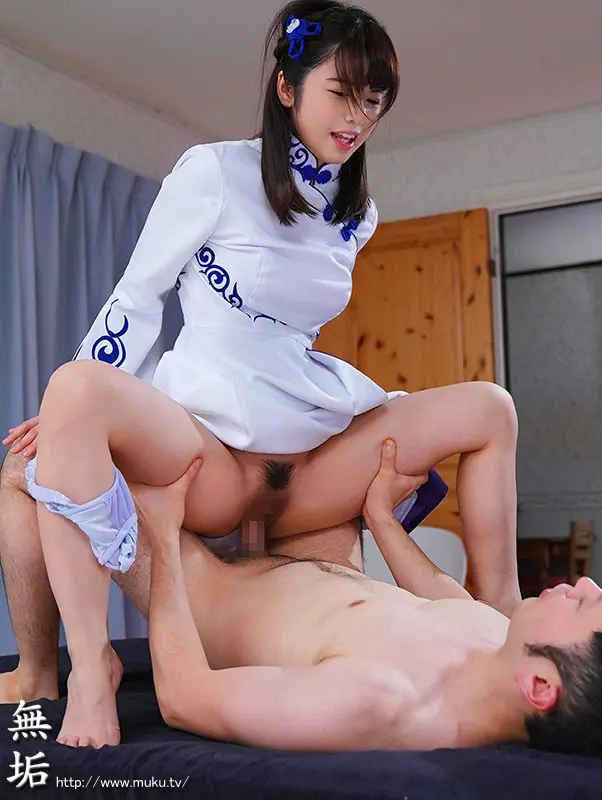 The final scene has Nanase wearing a strange white Chinese dress with blue accents and accessories. Nogizaka46, Asuka's idol group, has a strong commitment to using the purple color in their appearances. Not only is the costume in the last scene using blue instead of purple, a Chinese style dress is the last thing I would imagine an J-pop idol would wear. The room where it was shot in was also a bit boring, just a typical apartment room with little rhyme or reason for it.
Shiofuki was released during the height of the pandemic so it was understandable they weren't able to get any scenes on the beach, however I wish they put a little more fun into it by having more references to Asuka Saito and her group Nogizaka46. One of the things that they are known for are the series of commercials they made for the mouse brand of computer products.I would have wished they copied Asuka's costume in those videos than the one the out of place Chinese dress they used in the final scene of the AV.
Sex and Overall Satisfaction
Shiofuki was released a year into Nanase's foray into AV but her performance was still a bit shaky for me. She showed a lot of eagerness and enthusiasm in some scenes but there were a lot of times where she was just lethargic. You would catch her with a blank expression or sluggishly reacting to whatever is happening. She wasn't a dead fish though and I would commend performance in the squirting scenes. To be honest I was quite surprised how well she did with the squirting given her propensity to look bored during sex.
JAV Parody Explained: Shiofuki - Asahina Nanase
Overall Satisfaction
5/10
Pros
Uncanny recreation of the original photo book cover was amazing
Squirting and creampie action
Nanase Asahina was delightfully wholesome
Cons
Uninspired plot and production
Nanase's personality didn't really match to Asuka Saito
Reviews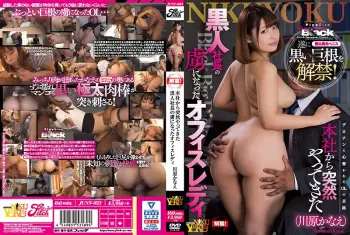 Kanae Kawahara gets to know the president on the company that she is working and can't get enough of his black cock
Reviews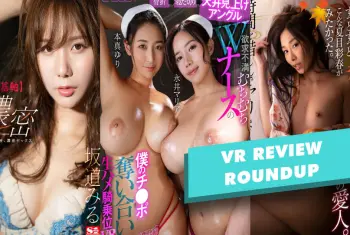 All you VR fans take note for another VR Review Round up with Yuri Honma, Maria Nagai, Iroha Natsume , and Miru Sakamichi.
Reviews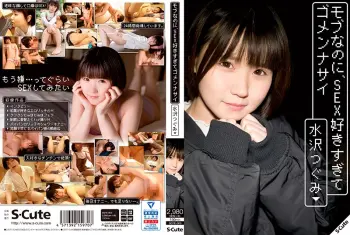 Tsugumi Mizusawa is a cutie but she doesn't have a lot of confidence. Fortunately, she really loves sex.