Huge JAV Loads: An Almost Scientific Analysis
Published : February 19th, 2021
Written by vienna
Are you ready? Here I cum!
«A coomer», as noted in the proper definition from Urban Dictionary, «is an elusive creature that spends its whole life desperately trying to reach the next best nut. [..] It is classed as a critically endangered species».
Sometimes we tend to limit ourselves by encapsulating feelings and personal backgrounds into well-rounded, acceptable presets. You like pizza, I like kebab -- but I could also like pizza, so we can still be friends. Everything we do, every façade we build, we do it to feel accepted and surround ourselves with true friends. However, what would your friends say if you told them that you are able to burst 10 times their load?
Yep, you already know what we are talking about today: huge loads.


Anon is delusional.
What's a porn actor's best virtue, if not the quantity -- the sheer dimension -- of his load? You go on for hours, sometimes days without stopping having sex with beautiful actresses that commoners like me can't even fathom, can't even imagine, how it's like to keep going for so long. I mean, how much can you produce until you are.. done? Until you are finished? Some of you might say that "this is not how it works" or that "I didn't take my science classes" but I ask them: where's the data? Where are the papers? Show me the math. Prove me, right now, right here, how can actors shoot 4-glasses-worth of cum, again and again, a couple of times per day during all their career? I probably would understand them if they had kept them stored somewhere and just unloaded them when the time came, but even after years of watching porn and JAVs in particular, I still can not understand how does this all works. This subject may sound weird or questionable to you but stick with me. I, myself, am interested in huge loads: their very nature -- how does one achieve this marvelous skill? Is this something you put on your porn-actor resume when binge-sending applications to studios? Maybe, or maybe not. But after several failed tries and months of research, I think I got the handle of it: huge loads do not exist because of some bizarre hormonal function or over-the-top self-esteem, but for the self-awareness of one's post-nut experience.
What did I smoke? Nothing. I don't smoke. I am genuinely interested in the topic, and how it applies and presents itself in JAVs. Let me extend this idea further: if I could shoot huge loads, would I be able to do so because I am nutting to a JAV, my favorite kind of porn? Would I be able to do the same on western porn? I don't think so, you know. But enough with the babbling, let's get started.
The «Post-Nut» Experience: Understanding Your Inner Self
Have you ever masturbated? I did, once -- some hours ago. It wasn't on a JAV, but it still felt pretty great. "Great" in the sense that I could clearly depict myself masturbating again the same day. But I couldn't because I had to write this article.
Eminent intellectuals from boards all around the web, from 4chan to Reddit (you can find our contributions here!), which sure masturbate more than me (I don't have the data for this, though) have gathered in a symposium to craft the most scientifically-correct personality test that has ever existed. In order to achieve this great goal, they used material such as archaeological treasures from the Roman era, /pol/ shitposts and a couple of books about Communism. After my long and hard-earned University degree in "Huge Loads", I owe to all my professors my personal backing and full support for this state-of-the-art emotional puzzle. The "Post-nut Compass", created by Anonymous during the 21st Century (sic), depicts all possible states of human thrill, pain and limpidness. If you masturbate, I guarantee that you will find a place on this compass. Everybody does, after all. Now, let's take a closer look at this abomination.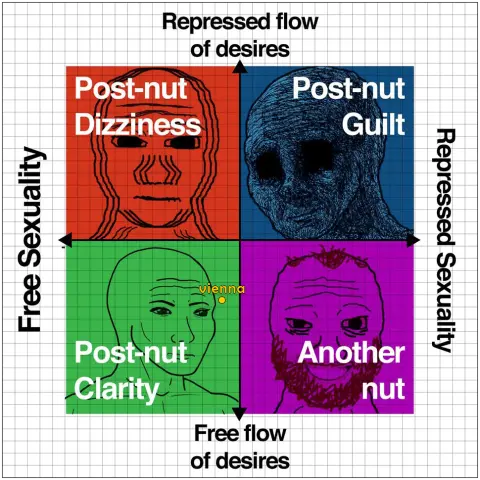 Who.. who could've created.. this? What is "this" to begin with? What am I even looking at?
I don't think Darwin expected any of this. Truly a remarkable step of both human evolution and devolution.
Post-nut Dizziness

− I don't think I'm feeling too good. I am, like, lying down on my bed and I feel so weak that I could drop my phone on my face.. it could hurt, so I'd better be ready for anything. Porn is war. Everybody knows it. Today I successfully masturbated to yet another JAV, but will I be able to say the same tomorrow?

Post-nut Guilt

− This is it. You were born and raised by your parents who so much hoped for you, your future, your wellbeing, your cooperation with society - your uniformity. You achieved none of this, haven't you?
You just nutted to your third 2-hours-long JAV of today. Why do you feel so bad? It's just porn -- good porn, in fact. You couldn't shoot those cool, huge loads you envy so much, but you sure could snipe your heart with a titanium bullet. Is this what it feels like to end? I do not know, friend, for this is not our end. Try again.

Post-nut Clarity

− You have to study for your next exam. Today you are doing pages 34 through 71. All of them. Then you are working at least three shifts at your underpaid part-time job, but it's okay -- they're going to raise your wage someday. You are going to come back home in the evening, have dinner with your loving family, and nut again. It's a good day.

Another nut

− Behold, commoners. John Doe is here -- the one and only. Come, king. Take a seat among the gods. Enjoy some sparkling wine, violet grapes and Japanese Adult Video actresses. Your domain is eternal, your accomplishments unprecedented. Have they already written about you in history books?
Where do you belong on the post-nut compass? Don't be ashamed of yourself, every kind of post-nut is a good post-nut, especially if said nut comes from a high-quality JAV. As you can see, I position myself in the Post-nut Clarity faction, somewhat leaning toward Another nut. Pinpointing your position on the compass is key to understanding why you like JAVs. I think that people who love JAVs as I do will generally tend to position themselves between Post-nut Clarity and Another nut like I do, and I see nothing wrong in this. JAVs medium duration (about 2 hours, sometimes more, sometimes less) forcefully grants us a sense of pride and accomplishment after finishing it all. How could you not be satisfied and limpid after watching a full-length JAV movie (perhaps one of those suggested by the folks over at Zenra on the blog)? In the end, "free flow of desires" describes us JAV-enthusiasts pretty well, to be honest. Of course, 'desire' itself is the moving force of porn as a whole, but I think that JAVs take that concept one step further, thus making our post-nut experience some of the finest of all.
Post-nut satisfaction is a synonym for pre-nut magnitude. Planning to feel good about yourself after this one hell of a fap? Do your best in finishing what you started in the most suitable way possible: with a huge load.
Some actors actually hard-coded these life lessons into their DNA so that they could shoot infinite huge loads on command. Interested? I personally selected 3 JAVs showing off what I just explained to you -- with great effort and practice, you will be able to shoot those huge loads like you always dreamed of. Let's now employ these newly gained talents to unlock our true potential with some phenomenal JAVs!
3 JAVs that will guarantee your next best nut
SSNI-888
Yua Mikami − "Can't Stop Climaxing, These Orgasms Will Last You For Life"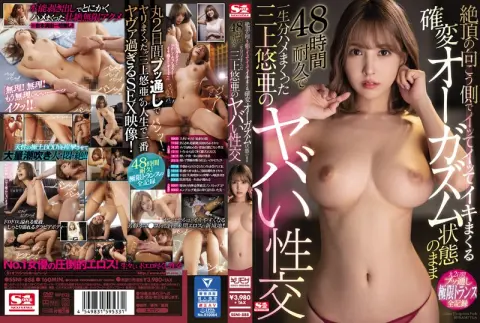 Are you going for your best next nut of the day or of the month? Because this might as well be your next best nut of the decade, comrade. This JAV is so intense that almost made my brain meltdown. Yua Mikami exceeded herself in this pure-sex movie. This JAV gives you one thing, and it is good: sex. It's just that. There's nothing else here, besides an amazing performance and a stunning actress in her best form. We talked about huge loads for so long that we actually were forgetting that actresses cum as well: Yua Mikami reminds us of this tiny particular in a series of top-notch squirting movies. "Worth of Cumming", this movie's series, is surely worth its name. Absolutely give this JAV a shot!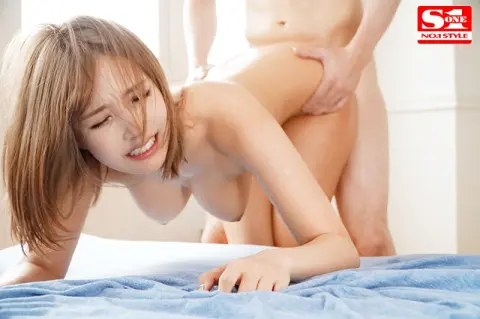 Check out the trailer here:

IPZ-716
Mayu Nozomi − "New Spermania: Huge Loads Shot In Mouths!"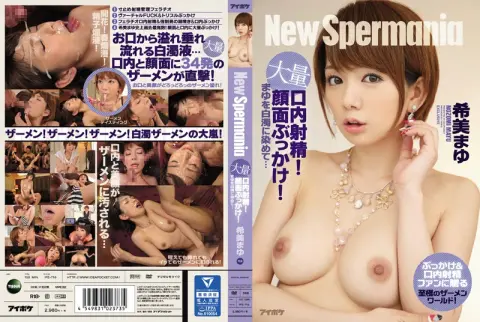 This JAV is white. This is literally the "Huge Loads" JAV. Mayu Nozomi receives tens of huge, huuuge loads that will make you finally believe my post-nut theory. Swallowing is also a big part of this movie: every time Mayu Nozomi gets ready to host the actor's burst, she is like "Yeah baby! That's what I've been waiting for! That's what it is all about!", which clearly means that our theory also applies to female actresses -- which is important to note because in this movie quantity is everything. Things in this JAV are big, and I mean big. When you watch this, remember to use at least an ultrawide monitor.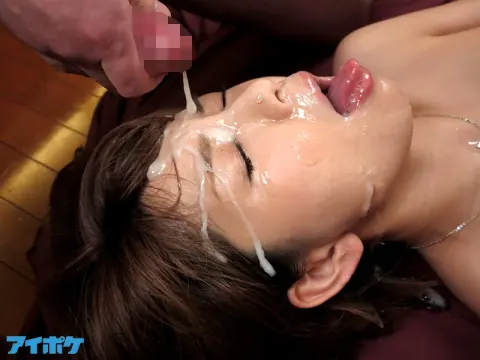 Check out the trailer here:

HUNBL-017
Arimura Nozomi − "After School Face Fucking: Huge Loads"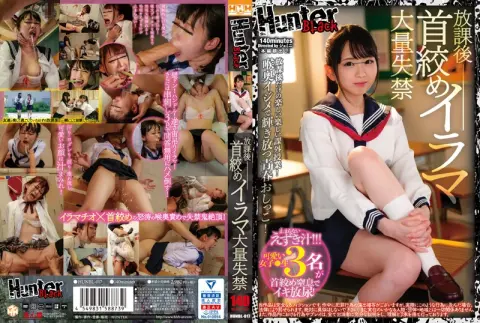 Finally a more interesting setting. For this particular JAV, we are pleased with a huge load only in the lategame -- but sure as hell this JAV is erotic. In this movie, Arimura Nozomi pours out sexiness from everything she does. She is a sex machine that won't stop in front of anyone. The setting just makes things even more interesting. If you didn't watch any deepthroat or hard sex JAVs recently, this one is actually pretty good. A perfect candidate for the "next best nut" award.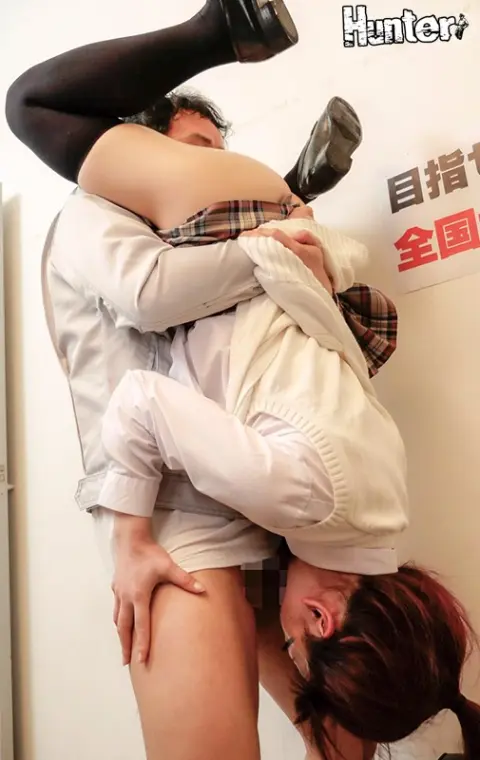 Check out the trailer here:

That's all for today, guys. Hope you enjoyed my recommendations and my philosophical disquisition! See you next time!
Opinions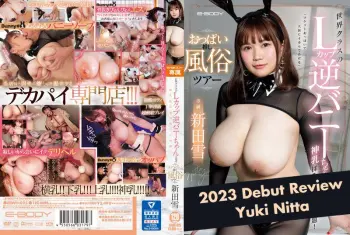 A first impression of 2023 debut actress Yuki Nitta
Opinions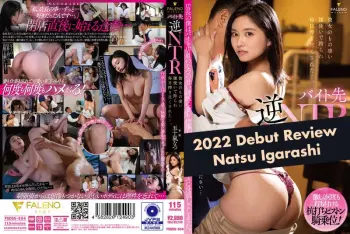 A first impression of 2022 debut actress Natsu Igarashi
Opinions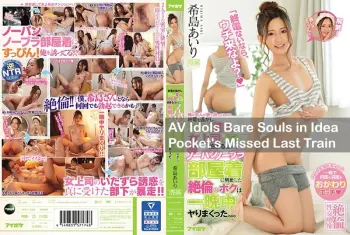 Idea Pocket manages to come up with an awesome series that bares the soul of its actresses