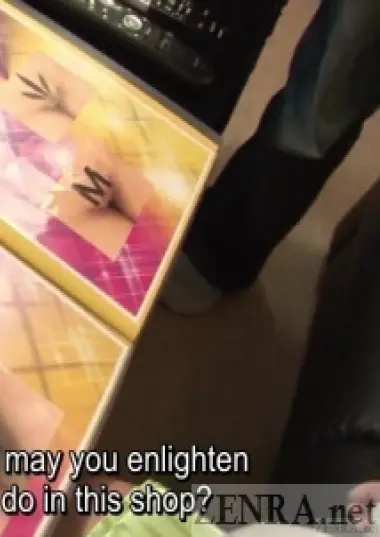 Pubic Hair Shaving Salon
Published September 2, 2015
Dry humor meets a novel documentary approach to showcasing a unique pubic hair shaving salon in Japan uncensored with extra paipan.
Pubic Hair Shaving Salon
Published September 2, 2015
#Subtitled
#HD
#Uncensored
Dry humor meets a novel documentary approach to showcasing a unique pubic hair shaving salon in Japan uncensored with extra paipan.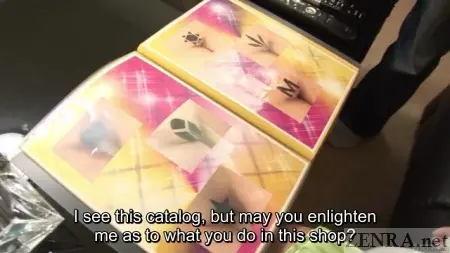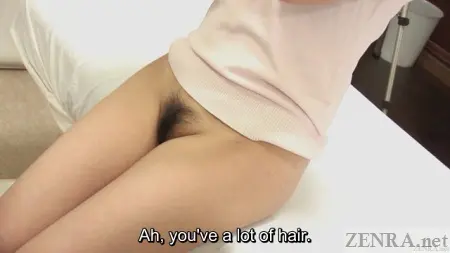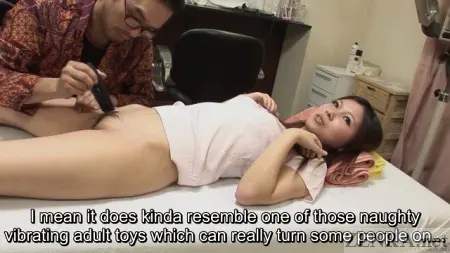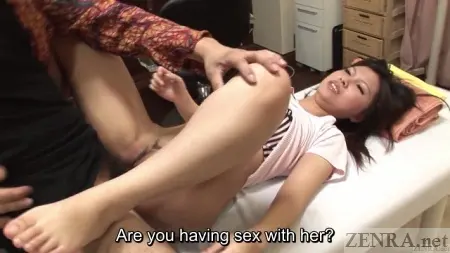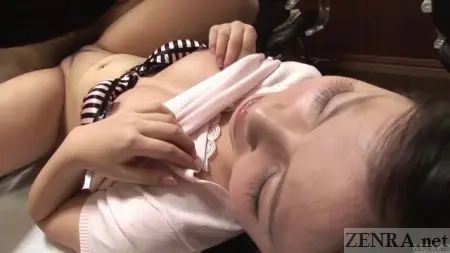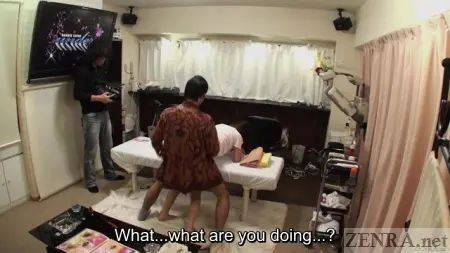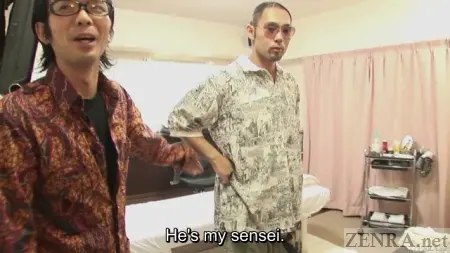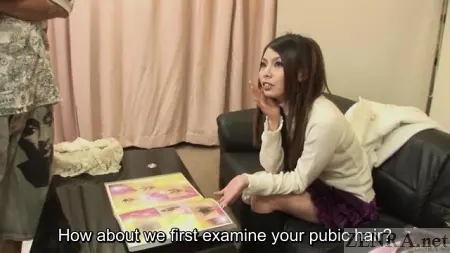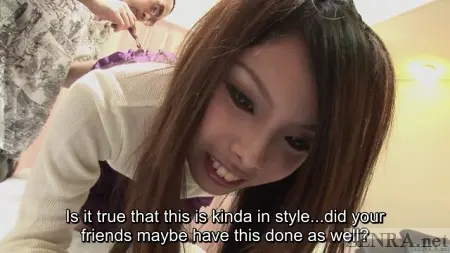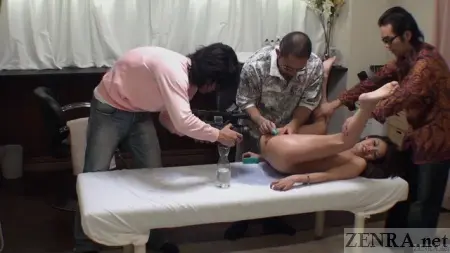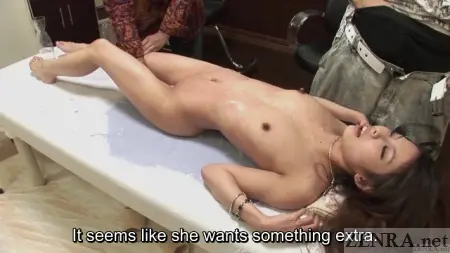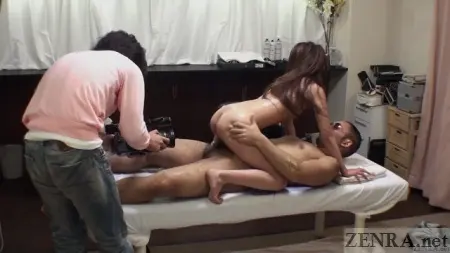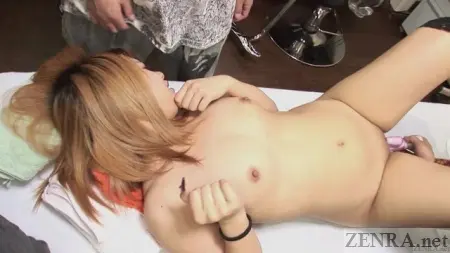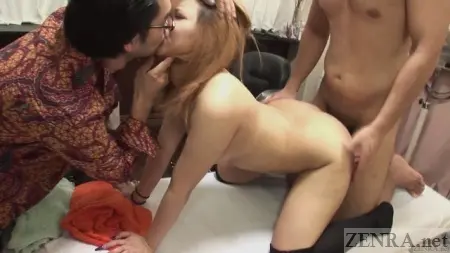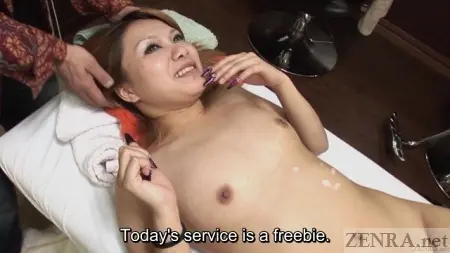 Pubic Hair Shaving Salon
with English Subtitles
It really is tough to successfully mix 'porn' and humor. There are parodies aplenty and western adult video definitely employs better wordsmiths who are able to craft some very humorous titles. Titles of Japanese adult films on the other hand can be very long and direct without much in terms of innuendo and word play. Take today's very special release at ZENRA: THE PUBIC HAIR SHAVING SALON. A short title by Japanese AV standards, but the name alone isn't what one would consider a comedy goldmine. It definitely is bizarre and given that most Japanese AV stars opt to remain au naturale down south, would surely pique the curiosity of fans of Japanese women with artificially reduced pubic fuzz.
What's more, this release is incredibly funny. It's almost the polar opposite in humor compared to last month's extreme lesbian fisting salon by FETISH-JAPAN. There--in the second scene at least--comedy existed by means of very direct over-acting. We still stand strong with our declaration of that spit-bomb lesbian massage clinic fisting-fest being the funniest release ever on ZENRA, but for those who prefer humor that's delivered in a less direct fashion, THE PUBIC HAIR SHAVING SALON was made just for you.
Delivery is dry and in a pure documentary style. It's essentially THIS IS SPINAL TAP but Marty Di Bergi (Rob Reiner's role) is replaced by the same loquacious chap we've seen in a recent threesome movie, but with much longer hair. Here, he plays a camera-wielding documentarian who was given permission by and up-and-coming salon all about pubic hair styling. The first scene consists of him, the shop 'owner' Mr. Charisma, and an actual customer played by Yuki Kawamoto who is pondering what to do with her pubic hair.
A pubic hair styling guide is shown in the first scene and a design is selected from it. The actual styling finesse of Mr. Charisma is ho-hum. In fact, the second two scenes are straight-up paipan productions. Thus, those who prefer Japanese woman totally devoid of hair will be elated. Those hoping for unique pubic hair styling will have to accept reality.
Dialog for the most part is fantastic. Being a new salon, the cameraman is quick to notice that both Mr. Charisma and the actual shop owner whom we don't meet until the second scene are both not that skilled in their declared professions. "Are you supposed to just dump the wax on like that?", "I thought she didn't want to go paipan?", "There's a...secret menu?" are some of the questions he asks of the two staff members. All are replied with professional rejoinders about special techniques from abroad. The shop owner uses wax he claims was imported from USA, but the cameraman notices the Japanese labeling. "Uh, we're gonna sell it in Japan soon" was his reply about that.
The shop owner himself looked like the last person on earth you'd assume to be a skilled Japanese pubic hair stylist. With a nearly shaved head with EXILE-themed racing stripes, a baggy shirt and jean shorts complete with Tupac's face along with a flaking gold temporary tattoo, he looks more like a nightclub bouncer going grocery shopping. What's more, he bears an uncanny resemblance to famed Kabuki bad boy Ichikawa Ebizō XI. This isn't an attack at him by no means. He was even funnier than suave Mr. Charisma.
All three scenes' second half's consisted of the 'secret menu' which took the form of sexual relaxation toys along with full-fledged insertion. This title worked this in *very* well. In fact, it's essentially the return of 'sexual non-sexual', a theme we have highlighted in past releases at ZENRA. With releases such as this, sex does happen, but it's done not for pure sexual gratitude, but always for some relaxation tie-in. In other words, intercourse may be termed an 'internal vagina massage' and a blowjob would become a 'massage for a tired mouth'.
Although the third scene with Miyo Saeki felt a bit too much like an AV shoot as the humor was a bit less pronounced, the production overall was top-notch. The first two scenes made up for it and Rina Hazuki's performance in the second scene as a new customer who finds herself stark naked, oiled up, with a freshly paipan'd womanhood on full display will leave even the strictest of AV connoisseurs nodding their heads in approval.
This is a totally uncensored release in HD by DREAMROOM. It originally appeared on their flagship site some time ago and we're happy that now it can be shown on ZENRA with complete and exclusive English subtitles. Unlike other uncensored releases, this title features an absolutely immense amount of dialog. Prep time for THE PUBIC HAIR SHAVING SALON was almost double the norm and the running time also is a stone's throw away from 140 minutes. The 'sexual non-sexual' aspect works very well this time around. Uncensored titles frequently flaunt their lack of mosaic with relatively unappetizing extreme close-ups. They exist here, but since this is a title about pubic hair (or the lack of it), close-ups of freshly shaved Japanese paipan are warranted.
Comedy and adult video rarely work, but when they do, it's magic. Fans of dry comedy in particular should clear their schedule and watch today's release at ZENRA all the way through. There may be no spontaneously combusting drummers, but there are countless minutes of uncensored Japanese paipan!
Lines of Subtitled Dialog: 2007
4 Files 3.56GB
02:34:17