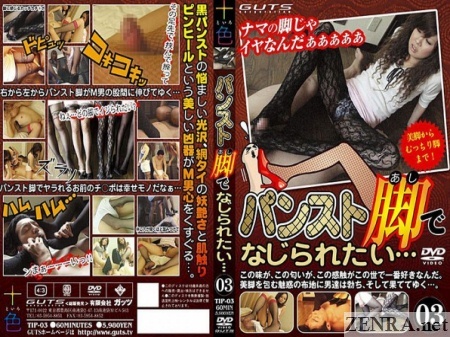 Click Here to Watch Free Trailer
Classic Japanese CFNM femdom via GUTS where clothed women wearing various types of leg wear tease masochistic naked men with strange fetishes.
VR at ZENRA
ZENRA has teamed up with WAAP to bring you Japanese AV VR with English Subtitles! Updates at first will be limited to every other Saturday and only VIP subscribers will have access to them. Unlike non-VR updates, the subtitles will not be hard-coded. Rather, we will provide a subtitle file (.SRT) that you will need your virtual reality software to recognize. Most software will automatically do this so long as the subtitle file has the same name as the movie and is stored in the same directory. VR updates initially will be download-only, but we are currently working on a streaming solution that should go live in the near future (update June 24th, 2017) and may be available to all subscribers (including non-VIP!).
Review us at Rabbits Reviews, PornUsers, and x3guide for VIP upgrade!
ZENRA Subscribers, we ask that you leave a review for us in the user review sections of Rabbits Reviews and PornUsers and x3guide.  Good or bad, as long as the review is 250 words or longer and written at a high school level of English proficiency or higher, we will provide you with a free VIP upgrade regardless of how long you have been a subscriber. After your review goes online please contact us and so long as it meets these guidelines, your upgrade will be awarded.

VIP Information (Limit Increased June 2017!)
VIP status is a free opt-in upgrade that allows subscribers to download movies with the orange 'Exclusive' tag and is only offered to subscribers who either are on a 90 day subscription or are monthly subscribers of ZENRA for 3 or more consecutive months with the exception of Streaming-Only subscribers. If this describes you, please contact support and ask for a VIP upgrade. This will only be provided to eligible subscribers who request it. Non-VIP subscribers may only stream 'Exclusive' movies. Non-Exclusive movies may be downloaded by any subscriber except those on Streaming-Only plans.  Due to the high cost of licensing and royalties for Exclusives downloads, there is a 25GB monthly limit for Exclusive downloads for VIP subscribers (streaming is NOT affected). We are aware this may upset some subscribers, but without this limit, we would actually lose money with certain subscribers.
Regarding DRM and Exclusives
We understand that nobody is a fan of DRM due to severe access restrictions it entails. Thus, all movies—both exclusive and non-exclusive—are available to download without it. Please take note that licensing these movies—especially Exclusive ones—is very costly. Uploading and sharing them without prior permission hurts us and the studios we are partnered with. Please do not ruin the party for everyone.
When requesting subtitles please include:
1. Name of movie*
2. Page it is located on
3. Username and Email Address

If you are interested in having media not on Zenra subtitled and translated, please contact support. Subtitle Request Form
×