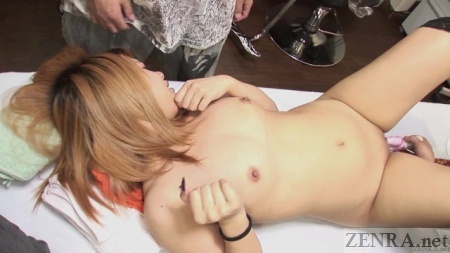 Click Here to Watch Free Trailer
Dry humor meets a novel documentary approach to showcasing a unique pubic hair shaving salon in Japan uncensored with extra paipan.
X
ZENRA News Bulletin (September 2nd, 2015)
---
VIP Information (UPDATED JULY 2015)
Beginning in May, we introduced an opt-in VIP level for our subscribers. Becoming a VIP currently does NOT cost anything extra. VIP status allows subscribers to download movies with the orange 'Exclusive' tag and is only offered to subscribers who either are on a 90 day subscription or are monthly subscribers of ZENRA for 3 or more consecutive months. If this describes you, please contact support and ask for a VIP upgrade. This will only be provided to eligible subscribers who request it. Non-VIP subscribers may only stream 'Exclusive' movies. Non-exclusive movies may be downloaded by any subscriber. (NEW) Due to the high cost of licensing and royalties for Exclusives downloads, we have implemented a 10GB monthly limit for Exclusive downloads for VIP subscribers (streaming is NOT affected). We are aware this may upset some subscribers, but without this limit, we would actually lose money with certain subscribers.

Regarding DRM and Exclusives
We understand that nobody is a fan of DRM due to severe access restrictions it entails. Thus, all movies—both exclusive and non-exclusive—are available to download without it. Please take note that licensing these movies—especially Exclusive ones—is very costly. Uploading and sharing them without prior permission hurts us and the studios we are partnered with. Please do not ruin the party for everyone.
X
AV Actor Genjin Moribayashi: "I'm a Middle-Aged Virgin" (August 31st, 2015)
---
This is a massive interview/bio about Japanese AV actor Genjin Moribayashi. It's considerably longer than the average update at My Dearest Desire, but please check back regularly as the entire piece is well worth the read. Read more about it at My Dearest Desire. Totally free for everyone and no registration required.
Featured Articles from My Dearest Desire
When requesting subtitles please include:
1. Name of movie*
2. Page it is located on
3. Username and Email Address

If you are interested in having media not on Zenra subtitled and translated, please contact support.Subtitle Request Form
×